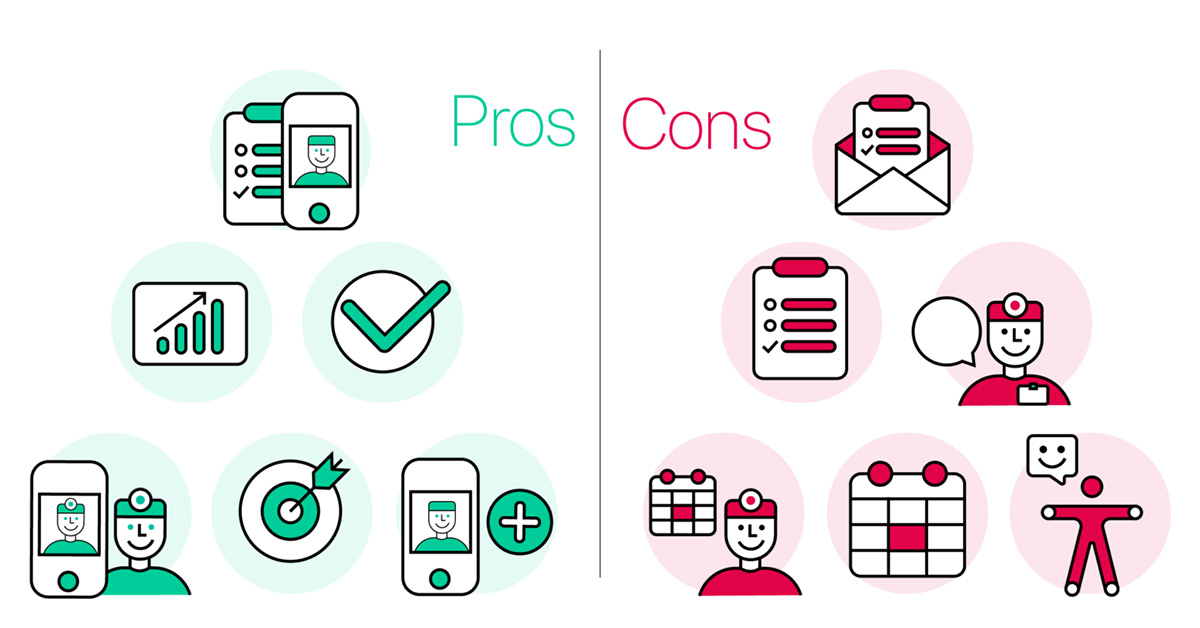 When doctors hear about Telehealth, they often have in mind one of the last steps of the process – the consultation with the patient which usually means the exchanged messages or the live video call. Doctors rarely think about the different channels that could lead the patient to this consultation and what are the pros and cons of the approaches adopted by these channels.
The Direct-to-Consumer (DTC) approach
Today this is the most popular approach to Telehealth. Most of the people, who know what Telehealth is, would think about a DTC telehealth company when they hear about online consultations, telemedicine or telehealth.
You may have heard of some of these companies – American Well, Teladoc, Doctor on Demand, Push Doctor, Babylon Health. The DTC telehealth companies usually either employ a team of doctors or have contracts with them, and they market their services directly to patients. Maybe that's one of the reasons why DTC companies are the most popular players in the Telehealth space. In order to be successful, they need to be easily discoverable by patients who need timely online advice by a doctor.
Pros
Most DTC telehealth companies have partnerships with insurers, so reimbursement is usually taken care of.
Patients usually don't have to wait to see a doctor because most of the time there's an available doctor with whom they can start a consultation.
Cons
Doctors need to conform to the company's terms and conditions, how much time they should set aside for the consultations, what's the price of the consultation, availability and so on.
Doctors get less money for the consultation compared to what they would typically get should they deliver the consultation on their own because of the commission that the DTC company gets.
Patients can't just choose a preferred doctor or a doctor with whom they already have a relationship. Doctors, on the other hand, can't bring in their own patient populations.
Most of the time it's live video calls that are allowed and reimbursed, due to the fact that state regulation usually covers live video calls only and not asynchronous communication such as text messages.
When a consultation starts, it needs to be carried out and doctors usually feel obliged to give their piece of advice and meet the patient's expectations. And this could lead to a number of problems.
The DTC telehealth software (apps and sites) are usually not integrated with the doctor's software (EMR and practice management) which means that doctors can't easily check the patient's past health records and be more prepared during the consultation.
The EMR integrated approach
Some Electronic Medical Records (EMR) and practice management software companies have already added telemedicine features to their products, thus allowing doctors to provide online consultations to their patients directly from within the EMR.
Pros
The telemedicine functionality is integrated with the EMR software that doctors are using, so they can easily check the patient's health records – past conditions and treatments, allergies and so on, which could greatly facilitate the consultation.
Doctors can provide consultations to their own patients and patients can easily get an online consultation with their preferred doctor.
The telehealth features are not only limited to live video calls but could include text messaging, sharing of medical images, lab results and so on.
Cons
Doctors need to take care of reimbursement and stay on top of the latest state regulatory changes and recommendations.
The telehealth features are not of first importance and could lag behind compared to other solutions which are focused specifically on telehealth.
Patient experience could vary a lot between consultations carried out on different EMR platforms.
Doctors don't get additional patients and they could eventually consult online only patients with whom they've already built a relationship.
Patients could often happen to contact a doctor who is not available at the moment and they may need to wait for the actual consultation.
The closed platform approach
This scenario is similar to the EMR integrated approach with one difference – the EMR functionality and integration is missing, but there's a strong focus on the telehealth functionality instead. Patients also get the same experience when having consultations with doctors using different EMR solutions, as long as the telehealth platform is the same.
Just like with the EMR integrated approach, doctors using a closed telehealth platform don't get introduced to new patients and can provide online consultations to their own patients only.
The open / closed (hybrid) platform approach
This is the approach we have chosen with Healee. It's up to doctors to decide whether they want to provide telehealth consultation to their patients only, or see new patients who discover them via the platform.
Pros
Doctors can provide consultations to their own patients and patients can easily get an online consultation with their preferred doctor. Doctors can also opt in to see more online patients who find and contact them through the platform.
The telehealth features cover all the aspects of a successful online consultation.
Patients can easily find a doctor who is available at the moment and start a consultation.
Doctors are free to choose how much time they want to invest in online consultations and they are free to set when they are available, the consultation price, which consultation can be carried out online and which is not suitable for telehealth.
Patients get the same experience when seeing doctors using different EMR and practice management software, as long as doctors are using the same telehealth platform.
Cons
Doctors need to take care of reimbursement when it's not an out-of-pocket payment.
The missing EMR integration could be a hurdle, although it could be overcome by functionality that lets the patient easily share his health records with the doctor.
Which of the approaches you should choose when selecting the right telehealth platform, depends on a lot of factors – your specialty, how many patients you have, where you practice. However, if it's important for you to attract new patients, provide comprehensive online care to your existing patients, be more flexible with your schedule and be able to work remotely, then go for an open hybrid platform such as Healee.