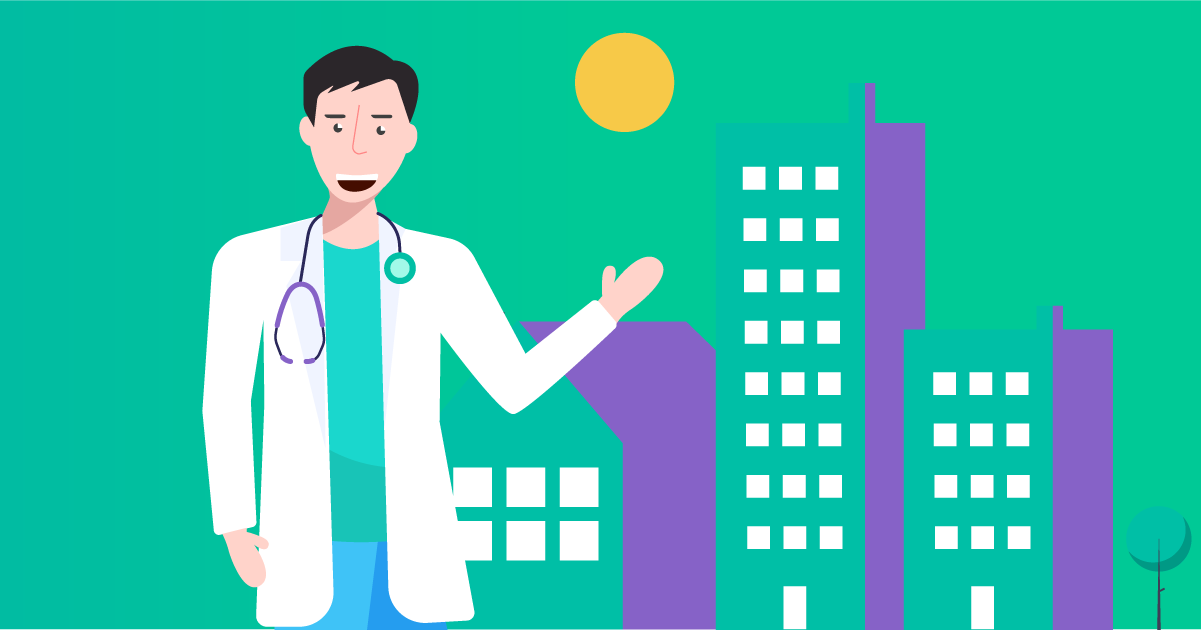 COVID-19 has brought enormous strain and economic burden on hospitals. There has been an unprecedented toll on healthcare workers tоо. Some hospitals had to аllow only emergency cases to be accepted and others were put on hold so that doctors can take care of emergency COVID-19 cases.
In 2020, more and more hospitals adopted some form of telehealth as an addition to in-person consultations. Moreover, a survey by Press Ganey from December 2020 showed that patients are as likely – or even a bit more likely – to highly rate their care providers following a telephone or a virtual visit, compared to in-person care.
Small and mid-tier hospitals had to delay non urgent care after the pandemic broke out, and this still continues to be the case. On one hand, hospitals started accepting emergency cases only, and had to postpone consultations with patients with other conditions who also needed regular and timely medical attention. For instance, patients with chronic diseases rely on periodic appointments to properly manage their condition. Besides the decline in quality of care, hospitals also had to deal with lower revenue resulting from fewer appointments. The Medical Group Management Association found that a few weeks into the pandemic, the coronavirus already had a negative financial effect on 97% of the 724 medical practices it surveyed.
Moreover, many physicians decided to quit their long term jobs because of COVID-19. Not only did they have to face numerous restrictions and be separated from their families, but they also exposed themselves to the virus.
Small and mid-tier hospitals were faced with surging workloads, with doctors struggling to achieve a semblance of a work-life balance at these unprecedented times. Telehealth solutions offered an alternative channel for delivering care to patients, while also helping ease workload. A number of hospitals embraced telehealth and managed to successfully address some of these problems.
Read along to learn how telehealth helps hospitals and clinics, and how digital health enhances hospital care delivery, and prepares hospitals and clinics for the new digital age.

1. Telehealth provides a safe space for doctor-patient communication
Telehealth platforms help prevent the spread of infectious diseases like COVID-19 and the flu. According to Press Ganey, during 2020 "telemedicine peaked at around 37% of all medical encounters in early May, decreased to 22% in early July, and remained steady at 15% since mid-August, which is far above the pre-pandemic rate of less than 1%". Because of COVID-19, many people were afraid of going to the doctor's office or the hospital, and rather stayed at home, postponing treatment. However, as evidenced by Press Ganey's statistics, more and more people are turning to telehealth to talk to a doctor.
2. Telehealth can address cases from across many specialties
Online consultations are suitable for endocrinology, dermatology, psychiatry, family medicine, and many more consultations. Doximity's 2020 report has ranked radiology, psychiatry, internal medicine, dermatology, pediatrics and 10 more specialties as the top medical specialties interested and implemented telehealth. According to Doximity's vice president -Peter Alperin, the number of other specialties that will use telehealth in 2021 and the few years ahead will definitely increase because the comfort among patients and doctors increases and the technology continues to improve. Telehealth helps hospitals by taking patient care and prevention to the next level by offering an option to bring healthcare to patients and not the other way around.
3. Telehealth prevents unnecessary hospital readmissions
With telehealth, doctors make follow ups with patients and monitor them closely. Telehealth prevents unnecessary readmissions in the hospital by analyzing whether a readmission is needed, by improving patient engagement in their treatment plan; by allowing doctors to remotely monitor their patients' health at home.
4. Telehealth prevents loads on emergency rooms, reduces hospitalization rates
Telehealth helps hospitals conserve supplies and bed capacity by keeping low-risk patients who don't need hospitalization at their homes.
A good example of how telemedicine helps keeping these patients at home is the initiative which was started in November 2020 and connected 120 physicians from different specialties with patients with COVID-19 symptoms and a positive test. Such initiatives give hospitals and doctors the option to help patients from a distance, achieve better treatment outcomes and reduce load on emergency rooms.
5. Telehealth helps doctors share expertise
Within Healee, a doctor can raise a question or a topic in a chat room where other doctors can respond. Doctors can also select specific specialists which they believe can address the topic at hand. Еspecially now with COVID-19, doctors often encounter new behaviors of the disease, which they can discuss with their colleagues from other specialties. These remote discussions on treatment procedures and therapeutic approaches improve patient outcomes, save time and lower costs.
6. With telehealth, hospitals have more satisfied doctors
Telehealth enables doctors to have more flexible working hours by seeing patients remotely. For instance, doctors who are under quarantine can still provide care to patients from the comfort of their home. Moreover, many doctors agree that telehealth is beneficial in terms of increased access, communication, doctor-patient relationship and satisfaction.
7. Telehealth as a channel for generating new patients
Telehealth gives hospitals the advantage to reach a wider range of patients and expand their patient population by adding patients who live far away in rural or suburban locations without access to their professional medical care. However, with telehealth this distance vanishes.
8. Telehealth reduces costs
Telehealth helps with early diagnosis and treatment which in turn leads to lower costs. In fact, one study showed that a hospital managed to had 19 percent savings over inpatient care costs with telehealth. The primary source of the generated savings comes from avoidance of the emergency department, which is by far one of the most expensive options provided.
9. Telehealth helps hospitals and clinics boost revenue and oversee all aspects of telemedicine traffic
With Healee, hospitals and clinics receive a dedicated dashboard that helps them track and monitor incoming online consultations requests, patient payments, etc. Moreover, with telehealth hospitals reach patients from anywhere, faster.
10.Telehealth improves patient retention, provider workflows
Patients are able to book appointments for both online and in-person consultations which leads to higher patients loyalty and retention and greatly reduces no-shows or nonattendance. On the other hand, providers use telehealth to streamline care delivery by enabling online appointment booking and remote consultations.
11. Telehealth improves medication adherence
Patients who don't follow the prescribed treatment plans from hospitals, are most likely to end up right back in the hospital complaining about the same medical problems. But with telehealth patients can reach doctors online for better clarification on their treatment plans at any time, which reduces unnecessary in-person visits and also improves medication adherence.
Telehealth is already transforming public health, doctor-patient relationship, medical research, professional health-related education and healthcare administration in hospitals and clinics. Today more than half of hospitals around the world offer some type of online booking for in-person or telemedicine consultation. By adding telehealth, hospitals level up their quality-of-care and become more competitive with other health systems.
Conclusion
COVID-19 is still on the horizon and patients who have postponed their doctor's visit will be looking for convenient ways to connect with doctors again. It is time that hospitals and clinics bring their services to patients via telehealth so that they can reach them at any time, anywhere.
Healee has already established valuable relationships with other hospitals and small and mid-ter clinics in the UK. Come and join us on this journey, the future of telemedicine has already started unfolding.
According to a survey by IT vendor Sykes, more than 60 percent of patients say the pandemic has increased their willingness to try telehealth.
Telehealth is affordable, sustainable, and adds value to patients and medical staff.
If you are looking to increase the profit of your hospital while providing more convenient care to patients, sign up for telehealth with Healee today.
Improve the quality of healthcare and increase patient satisfaction by adding telehealth to your hospital!
Check out our complete guide to choosing Healee's telehealth solution for your hospital and upgrade your hospital account now.

You can contact us for full details: https://www.healee.com/en
You can follow Healee on Linkedin: https://linkedin.com/company/healeehq
You can follow Healee on Twitter: https://twitter.com/HealeeHQ