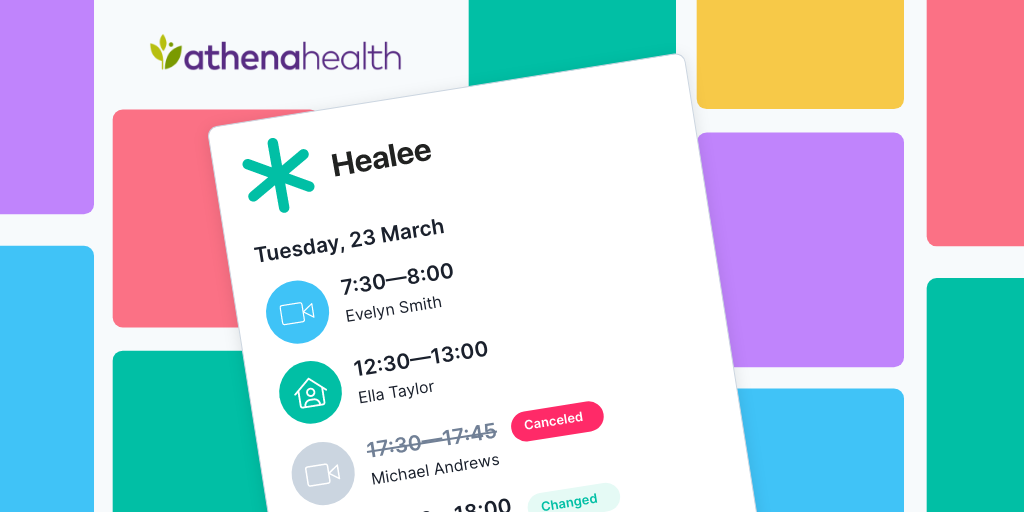 Healee's comprehensive and customizable digital health solution is now partnering with athenahealth, Inc. through the company's Marketplace program. As part of the athenahealth® Marketplace, the integrated application is now available to athenahealth's growing network of healthcare providers for virtual care, scheduling, payments, digital check-in, custom medical forms, automated notifications, AI, RPM and more.
"Healee can also be adopted as a consolidated white label digital health platform, providing the benefits of customizability, comprehensiveness, interoperability, scalability and battle-tested provider and patient experience, under your own brand,"
said Josif Dishliev, Co-Founder at Healee.
"athenaOne users would benefit from Healee's comprehensive feature set to extend their digital health offering, having patient data transferred automatically to their existing EHR."
athenahealth is a network-enabled, results-oriented software and services company that offers medical record, revenue cycle, patient engagement, and care coordination services for ambulatory and hospital clients nationwide. The company's vision is to build a thriving ecosystem that delivers accessible, high-quality, and sustainable healthcare for all. As a Marketplace partner, Healee joins a community of innovated, like-minded healthcare professionals who are looking to bring best-in-class solutions to the athenahealth provider base.
To learn more about Healee's new integrated application, please visit its product listing page on the Marketplace.
About Healee
Healee is a consolidated, deeply customizable digital health solution, which eliminates the necessity to use multiple disconnected systems by providing a seamless integrated platform for all digital health use cases – telehealth (synchronous and asynchronous communication through chat, audio, videoconferencing, data exchange of images, lab results, and files), scheduling, digital check-in, AI, RPM, payments, patient portal and more. Healee covers numerous virtual care workflows of healthcare organizations, and scales and evolves as they grow, so they have a single flexible solution under their brand, integrated with existing EHR. Trusted by over 1 million patients and 5K providers, Healee has helped HCOs carry out more than 3M virtual visits and stand out from the competition with the most comprehensive virtual care strategy and the best digital front door for their patients.
About athenahealth Marketplace
The athenahealth Marketplace, the largest EHR app store, is where athenahealth customers find innovative healthcare IT solutions that extend athenahealth services and allow customers to create highly tailored user experiences. Customers use Marketplace partner solutions to boost practice efficiency, increase patient satisfaction, and engage patients in their own care. The Marketplace has more than 250 solutions across 60 categories that are seamlessly integrated with athenaOne, athenahealth's network-enabled platform through which the company offers medical records, revenue cycle, patient engagement, and care coordination service offerings.
You can contact us for more details: https://www.healee.com/en
You can follow Healee on Linkedin: https://linkedin.com/company/healeehq
You can follow Healee on Twitter: https://twitter.com/HealeeHQ