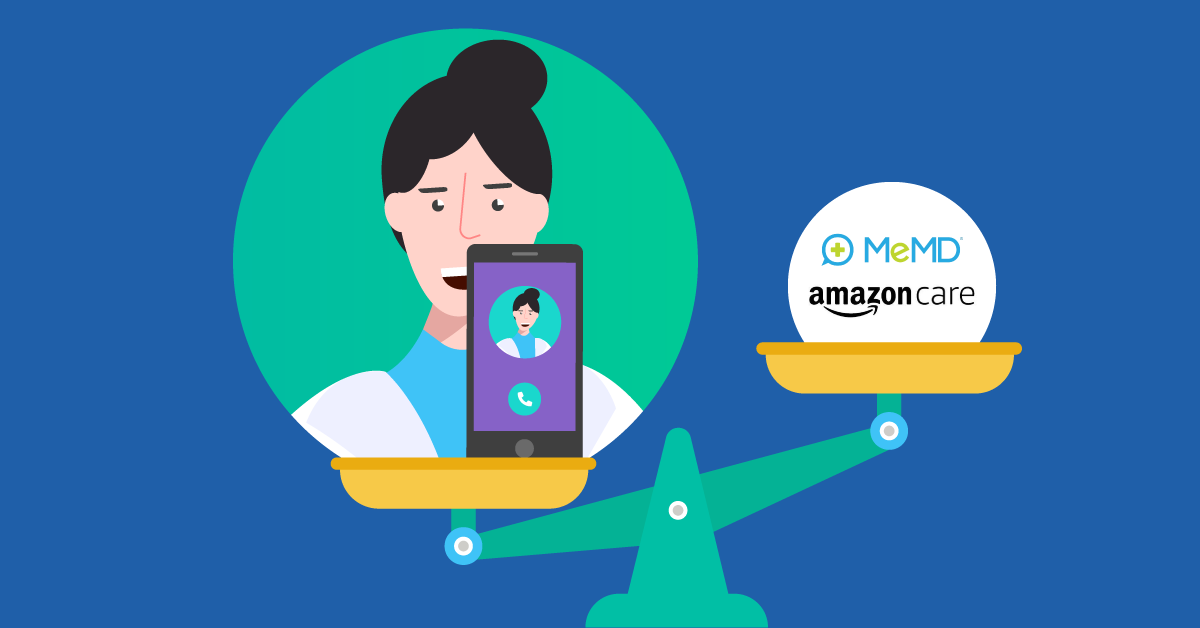 When was your last day at work when you had your calendar fully booked with appointments?
Did you know that 72% of U.S. patients 'dramatically' changed their use of traditional healthcare services as a result of the pandemic?
Keep on reading if you are among the physicians asking:
What patients switched to when the pandemic started?
What direct threat Walmart's MeMD vs Amazon Care's race poses for my practice?
How do I get a competitive advantage and stop patients from leaving me to these healthcare offerings from the big retailers?
In particular, we will talk about what the actual rising threat to physicians today is, which are the new healthcare competitors on the market, what their competition means to your practice and what is your best move to become the first point of contact to patients.
The rising threat to physicians
During the pandemic, many patients stopped visiting medical facilities unless it was COVID related. This and the patients' fear of potentially being exposed to the virus has left many of you without the option to provide medical care. This is not all. Now your practice is about to face another challenge. Two of the most trusted retailers – Amazon and Walmart – threaten to take away your patients with their virtual care offering. They are successful, they are growing and they use smart technology to provide on-demand access to patients where they are.
In the last few years, big retailers like Amazon and Walmart have been working towards becoming a one-stop destination for healthcare, threatening to overshadow medical practices. Their in-store clinics offer the experience consumers want: one that's convenient, welcoming, personalized, and transparent. These two biggest retailers have increased patients' expectations and changed people's mindset which directly affects medical practices around the country.
How Walmart's healthcare moves affect your practice
Walmart is the biggest retailer and largest private employer in the US. It has 2.3 million employees, 4700 domestic stores, 11400 retail locations in 26 countries and serves 240 million customers weekly.
In the last couple of years, Walmart saw an opportunity to make an impact in healthcare. It has opened twenty Walmart Health clinics that offer primary care, dental and behavioral health, along with on-site lab testing and imaging, all at a flat fee. It also plans to open at least 15 more clinics in 2021.
Walmart also got into health insurance by launching a Medicare-focused brokerage and teaming up with Clover Health. It established a partnership with Doctor On Demand Inc. and offered telehealth services to its 1.3 million American workers. This is not where they stopped.
Walmart senior director of strategy and customer experience told MedCityNews:
At the beginning of 2021, Walmart acquired the multi-specialty telehealth provider MeMD. This acquisition gives WalMart a chance to provide both in-person/in-clinic as well as virtual care across the nation.
These healthcare moves are a prerequisite for patients switching from their physicians who offer only in-person care and are hesitant to try on adding virtual care to their practice to very well known and trusted names like Amazon and Walmart.
About Amazon's healthcare moves and how they affect you
The multinational technology company which focuses on e-commerce, cloud computing, digital streaming and AI is the other big player that expanded to the healthcare arena not while ago.
In 2018, Amazon acquired the online pharmacy PillPack to offer the Amazon Pharmacy in 48 states. PillPack appeared to be part of the core value proposition of Amazon's next move.
In 2019, Amazon launched Amazon Care – a virtual and in-person healthcare offering featuring prescribed medications. It was first built for employee healthcare needs only. But later this summer it will become available to people in all 50 states. Amazon Care partnered with the independent private medical practice Oasis Medical to connect employees and their family members to a physician or nurse practitioner virtually, with options for in-person follow-up services.
Amazon signed its first enterprise customer for its Amazon Care (2019) virtual health service – Precor, the same week Walmart acquired MeMd.
The two biggest competitors, Amazon and Walmart, have always tried to match each other in innovation and it seems like healthcare is not an exception.
What does this competition mean to you?
Walmart and Amazon's head-to-head competition will not only disrupt the healthcare system but it will also raise the bar for physicians, clinics and hospitals.
Amazon and Walmart are already part of patients' lives, through weekly if not daily interactions. They both innovate in healthcare while focusing on the customer and the fact that patients have already developed a huge amount of trust in their offerings means that they will be more likely to choose their healthcare services as a change. Which means that you could start seeing less and less of your patients in the future.
What is your saving belt?
The pandemic has exposed the vulnerabilities of healthcare systems around the world and people are looking for alternative solutions.
The physicians who will be successful in offering high-quality virtual care today and tomorrow will be the ones who can design a telemedicine vision and strategy for a more positive future for their patients.
Did you know that 94% of people who sampled telehealth, in the form of synchronous virtual visits, for the first time during Covid reported satisfaction with the ease and convenience and expressed interest in other modes of virtual care, such as digital monitoring and at-home lab testing?
If you don't harness this moment and equip yourself with a telehealth solution, the chances of losing your patients to these big retailers are high.
In order to compete with them in the 2021 healthcare arena, you will have to give your patients something more than just a video channel to connect with you.
Your best move
With all-in-one telehealth solutions like Healee you can deliver more holistic and personalized care to your patients.
The biggest benefit of platforms like Healee is that it is patient-centric and extremely easy-to-use by patients and doctors alike. Thus such platforms ensure that patients and doctors navigate through the platform with ease and confidence.
Here is what some doctors share about their interaction with patients via Healee:
"Healee saves both my patients' and my time, and allows me to focus on what really matters: delivering better care. This helps me be accurate and provide meaningful advice, no matter whether it's a follow-up or a new patient."

Dr Jessie Felton, Dermatology · Haywards Heath
Helping your patients navigate easily through the platforms means you have to spend your time delivering high-quality holistic care. Spend some time on choosing the right all-in-one telehealth solution and you will be amazed at how grateful and satisfied your patients will be and how fully booked your calendar will be!
Let's put it all together
In order to compete on the same level as these big retailers and avoid becoming a trainer of telehealth platform navigation for your patients, it is essential not only to start introducing telehealth but to choose the right telehealth partner for delivering care. Otherwise, you can find yourself with a virtual health provider that doesn't match your specific practice needs nor does it meet your patients' wants and desires.
We want to make sure you make an informed decision about the right telehealth partner and we have compiled in a blog post a list of 8 best telehealth platforms in the US and UK for 2020.
If you want to learn more about us just visit our website or contact us at support@healee.com