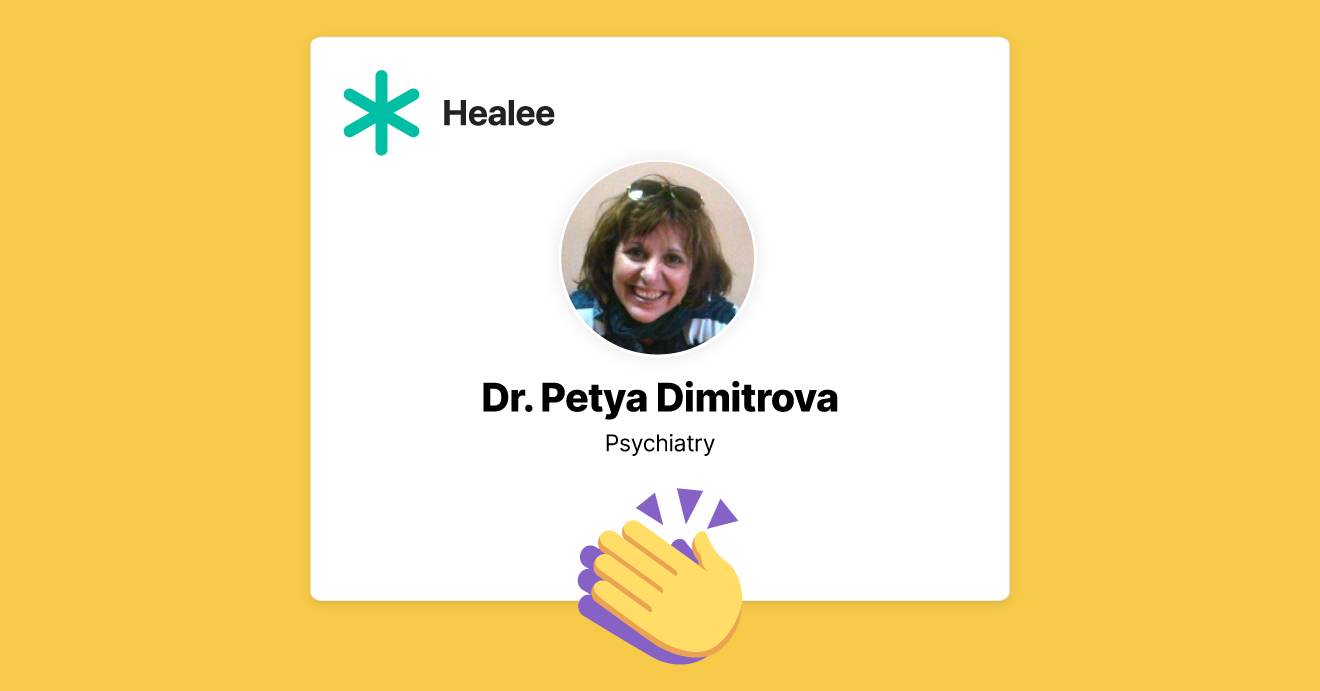 This interview is part of a series of posts: "Best telemedicine practice", in which we celebrate all dedicated doctors nominated by patients for best-reviewed telehealth practice every month via Healee. Dr. Dimitrova leads the ranking for the highest-ratеd doctor among patients registered in Healee for the last two months.
Dr. Dimitrova is a psychiatrist in Sofia with over 20 years of experience. She works in the field of diagnosis and combined medical and psychotherapeutic treatment of panic disorder, anxiety and stress, depression, bipolar disorder, psychosis.
Dr. Dimitrova graduated from the Medical University in Sofia in 1997, and acquired her specialty in 2007.
She began her career at the University Hospital Alexandrovska, in Sofia. Since 2007 she has her own individual practice at 13 Maritsa Street. You can read more about her practice on her website – http://drdimitrova.com/
Dr. Dimitrova shared her personal assessment of how the pandemic affects people's mental health, regardless if we have already caught the virus or not. Here is what she shared with us on the topic:
Dr. Dimitrova, can you tell us what made you become a psychiatrist?
Dr. Dimitrova: Certainly becoming a psychiatrist is not my childhood dream and I certainly had not planned it. That's just how things turned out. When I had to decide what to specialize in, I decided that there were few psychiatrists in Bulgaria, and that at some point people would need the help of these specialists. But I have never had a desire for this specialty before. For me, psychiatry was the twilight zone. At that time you had to pay for a specialization and it was better for me to choose a specialization in which there are few specialists.
What is your opinion on the impact of the pandemic on people's mental health?
Dr. Dimitrova: For me, the media has the greatest impact on people's mental health. There is too much pseudo-awareness which is stressing people out. No one is trying to calm you down, and everyone is trying to explain what happens on the third or fifth day after you get sick. In principle, everyone is afraid for their life. And at the moment, the fear is definitely directed entirely in this direction, which leads to regression in people's mental health. On one hand, the fear, and on the other, the disorder that nobody knows how to handle. It is normal for this to depress the contemporary individual, who is anxious in general, and what happens is that at some point the lack of notion, the lack of clarity, the lack of policies leads to even greater anxiety.
The other problem is that people who are supposed to guide you – experts, politicians, specialists, journalists, in fact are much more confused than you and at one point this all becomes too much. And if until 5 months ago you were afraid of the disease, then at the moment you are afraid of the unknown – how and for how long this pandemic will continue. Everyone already either has a sick acquaintance, or they have already fallen ill themselves, or unfortunately experienced the loss of a loved one. People today are wondering what is new and normal. In reality, the more you want to get an idea of ​​what's going on, the more you start to worry because that idea doesn't exist. The media never says how many people have recovered, it does not give you guidelines about what the exact steps are that you should take if you fall ill. It seems to them that everything is politics.
What can people do to avoid increasing stress and fear in their daily lives?
Dr. Dimitrova: I think that the good thing that has happened to us from the experience so far during the pandemic is that we have learned to live here and now, because until now we have always tried to be happy in the future or thinking about the past, and today just passes. I think that if people make plans until the end of the week, for example, and not much further, they may be able to reduce their anxiety. Obviously we can't plan on where we will be during the summer or whether we will have work in two months. Maybe we should just limit these plans a bit and live for the moment.
Stress is biochemistry, no matter how much we think it depends on the things around us – like how often we play sports, practice yoga, etc. Stress should be treated primarily with medications in order to relax a person's psyche. The purpose of the pill is not to make you happy, but the purpose of the medication prescribed is to physically calm the body. In my opinion and of many of my colleagues – every person nowadays is anxious. A person needs something to help them be calmer, because life definitely does not help you in this regard, but on the contrary – hectic daily life only increases anxiety. However, people are no longer ashamed to seek help because they see that this anxiety drives them out of rhythm.
I've heard that people decide to go jogging to calm down, but they need to understand that this makes the body even more tense.
How has your practice changed since the pandemic?
Dr. Dimitrova: I have noticed that my work has increased in the past few years. But during 2020, the percent of people seeking help for their mental health increased significantly. The people who connect with me the most are, without a doubt, mostly young people.
Over the last 2-3 years, people have no worries to contact a mental health specialist, even share with friends and relatives without hiding. But this is a logical process. There is no shame for someone to be willing to share their emotions in front of someone else.
Otherwise, in practice itself, what I have changed is that I advise patients who are already taking medication to continue taking them. For me, everyone needs an "anti-anxiety" remedy in times like these.
People are usually afraid to share that they are visiting a psychiatrist or considering contacting one. In your opinion, how can we overcome this stigma of mental health?
Dr. Dimitrova: In my opinion, this stigma is found mostly in doctors, not in patients.
My schedule has been full for the last couple of months. I don't think people are afraid or ashamed of seeking help anymore. Moreover, General Practitioners themselves direct people and people share with each other. My patients say that their colleagues or neighbors have recommended me. This in itself shows that the stigma is a thing of the past.
Dr. Dimitrova, how did you decide to add telemedicine to your practice?
Dr. Dimitrova: I am completely honest when I tell you that telemedicine is one great way to facilitate your work and a very convenient way to my patients. For me personally, the future is in front of telehealth, many doctors and patients are already collecting the fruits of its benefits and advantages. I have had this need to connect with my patients online for a long time before hearing about Healee MD and have been looking for ways to offer patients access other than the office. Even then, I thought that people needed access to a psychiatrist, no matter where they were. Patients are everywhere, and they need something regulated, safe and with an easy interface to connect with specialists from the comfort of their home.
What advice would you give to other psychiatrists who are unsure of the benefits of telemedicine in addition to their medical practice?
Dr. Dimitrova: I advise them to give it a try and I'm sure they will be convinced.
How do you see the future of online counseling as an additional way for psychiatrists to provide expert psychiatric evaluation, to conduct individual or group therapy sessions?
Dr. Dimitrova: Well, telemedicine will certainly be the main way of doctor-patient connection. And although sometimes I miss contact with people, maybe because I am from another generation, I personally think telemedicine will be the main way of communication between specialists and patients in the future. Circumstances are such that people will need this kind of online connection more and more in the future, the question is will they all accept it and adapt?