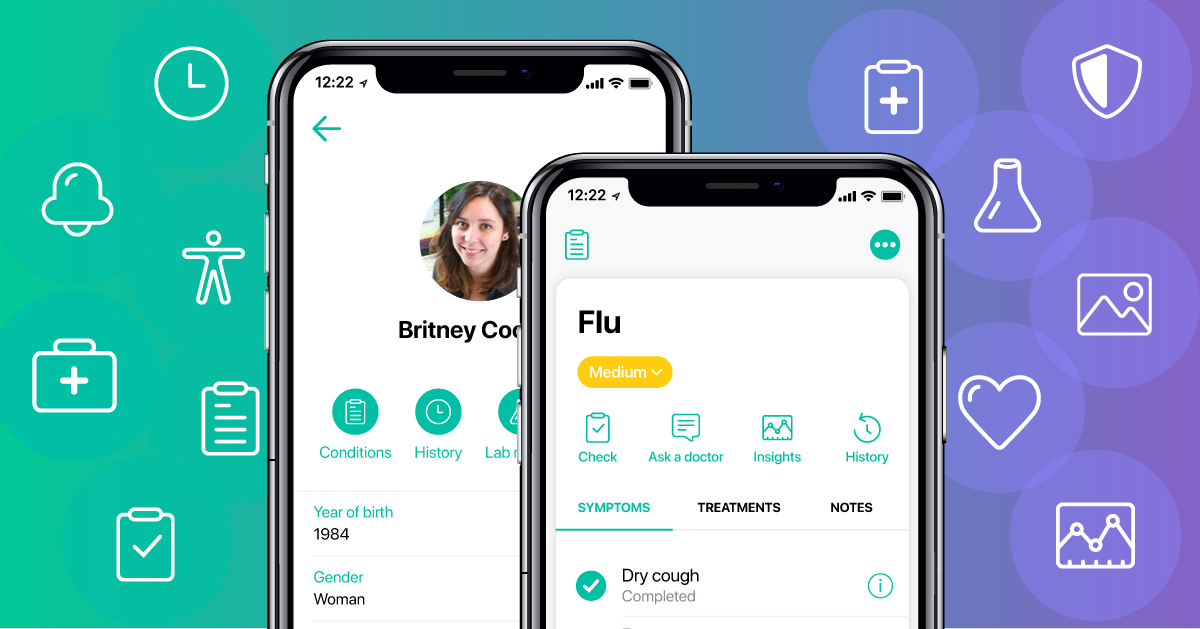 The ultimate comparison
Doctors look for means to deliver more comprehensive healthcare and increase their efficiency, while patients search for a tool that helps them take a more active role in their own health.

Today, electronic health records (EHRs) and personal health records (PHRs) are the means and tools patients and doctors are looking for. They bring extra accuracy for a more conclusive and effective medical diagnosis, especially in times of an emergency.

This post will help you unravel what personal health records and electronic health records are, what purpose they serve, and what benefits and drawbacks each one brings to telehealthcare delivery. And lastly, the post will explain why using PHRs together with EHRs, helps doctors make more accurate diagnoses, enhances doctor-patient relationships, and enables the healthcare system to evolve toward a more personalized medical model.
Comparison table: PHR vs EHR
PHRs
EHRs
Managed from
Person only (a patient or a family member)
All clinicians and medical facilities involved in patient's care
Accessible to
Doctors. They can have access only if patients give their consent
Doctors, laboratories, medical imaging facilities, pharmacies, emergency facilities – without any restrictions
Data
Family medical history; lab and test results; lifestyle data (diets, weight loss, etc); data from home monitoring devices or wearable activity trackers; non-prescribed medications; etc.
Diagnoses and allergies; medications and other treatment plans; immunization dates; lab results, providers contact information; hospitalizations;
vital signs; surgeries; etc.
Main disadvantages
No data import from other medical systems; health and technology literacy for elderly people is a concern
No patient involvement for access management; medical staff training requirement; importing data – very time consuming
Main advantages
Decreased duplication of tests; collaboration between doctors and patients; stronger support for doctor decision making; empowers patients to take an active role in their health thus improving adherence and health outcomes; inclusive and up-to-date data; essential for emergencies, traveling or visiting a new doctor
Easy access to multiple users and clinical data for collaborative patient care; update and access patient information in real time; doctors can quickly transfer patient data to other departments or providers
Definitions
A PHR is an electronic record managed by patients themselves only. Patients record, edit and retrieve their health data (diagnoses, allergies, non-prescribed medications, immunizations, family medical histories, home-monitored data, lab results, etc). PHRs can include information from a variety of sources including doctors, home monitoring devices, and patients themselves.

An EHR is an electronic record that is controlled by many: doctors, patients, hospitals, pharmacies, and other medical sources. EHR includes data from all clinicians and facilities involved in a patient's care. This data can be shared with authorized users across multiple healthcare facilities.
Advantages of PHR and EHR
PHRs provide doctors with data they may not have otherwise been able to obtain in an EHR. Statistics show that patients have an interest in organizing their health records by themselves – add health history, medications, and dosages, immunizations, etc. This is no surprise, taking into account that some patients are already using apps and devices that monitor blood pressure, heart rate, blood glucose, etc. All these devices help patients get involved in their health, look better after themselves, and reach their goals.

Another advantage of PHR, confirmed by a scholarly article, is that PHRs improve outcomes for chronic conditions as well as outcomes for elderly people who are taken care of by someone else. Another study reveals that when doctors include the patient as a partner in clinical decisions, they help encourage confidence and promote a healthier lifestyle. For instance, patients who have chronic health conditions and track their health metrics (insulin levels, cholesterol, etc.), can better maintain their health in between doctors' visits.

EHRs, on the other hand, enable more efficient patient visits and eliminate duplicate testing by providing all health data gathered in previous hospital visits and treatments. Doctors can easily connect with other clinicians who were involved in the patient's healthcare and make accessing patient information easier. After all, everything that happens both outside and inside of hospitals and doctors' offices is important for the overall health condition of the patient.

With Healee, doctors can benefit from patients' PHRs, where all the data is stored – from past and present symptoms, to conditions, to treatments and medication schedules. Doctors can request additional data from patients and take a screenshot of it or subscribe to follow the patient's changes in health data. Once subscribed to the changes, doctors get notified about them and can run reports like the "Condition history" or "Most Frequent conditions" report, etc. The format and layout of the data is straightforward and can be easily uploaded into the patient's EHR as an image. This feature brings convenience to doctors who feel like an important detail is missing from the patient's health data.
Disadvantages of PHR and EHR
Despite the many benefits of the PHR and EHR, there are a few drawbacks too. For instance, we have to take into consideration the health literacy of the patient when considering the reliability of the data the patient enters in the PHR. A study confirms that patients can be trusted with entering objective parameters (like temperature, weight, etc.), however, they might not be able to understand specific laboratory results like the ones for their cholesterol level.
One disadvantage of EHR for doctors is the fact that it is very time-consuming. A study shows that doctors spend one to two hours on EHRs for every hour spent with patients, and an additional one to two hours daily of personal time on filing patient information into the EHR, which is more than what doctors would like to give. Moreover, while filling out patients' EHRs many errors can occur. Studies found that medication errors due to insufficient information about patients and drugs comprise nearly half of serious medication errors.
The electronic health record paradigm
Many factors govern if one medical consultation or treatment will be successful or not, and patient health data is one of them.
Statistics show that poor communication of medical information is responsible for as many as 50 percent of all medication errors. For instance, whenever a patient switches from one hospital to another, medical data might get missed and medication errors can occur, leading to patient harm and adverse events.
Moreover, patients tend to take more over-the-counter medications, herbs, and health supplements without communicating it with doctors, which can cause medication errors.
In this sense, having all health data in one place will have a huge impact on healthcare outcomes. If doctors use PHR and EHR reciprocally, they will give safer and more reliable prescribing, reduce medical errors, and provide more up-to-date care.
Conclusion
Having quick and easy access to patient data through both EHR or PHR is very practical and can be life-saving in some situations. When doctors need to make conclusions and final diagnoses they must see the "big picture" – they need to take into account the data reported from patients in PHR and the data gathered from other clinicians in EHRs, in order to achieve more complete and efficient care.