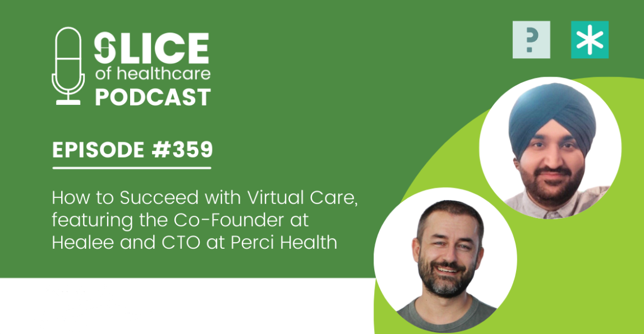 What are the barriers to patient access in cancer care? How can a virtual-first model democratize treatment? What role does patient-facing scheduling play in improving health outcomes from a physical, mental, and social standpoint?
These are the questions that Josif Dishliev, Co-Founder of Healee, and Paddy Rehill, CTO of Perci Health, discussed during the latest episode of the Slice of Healthcare podcast.
Healee-powered Perci Health launched in 2020 with £1.5 million ($1.87 million) of initial seed funding and the mission to bridge the gap between cancer and wellness that is often missing in traditional healthcare. The UK-based company's virtual-first approach is instrumental to improving patient access to cancer care not only from a physical but also from a mental, social and emotional standpoint.
Perci recently announced it has raised an additional £3.4 million ($4.2 million) in a second seed funding and will use it to further advance its evolved business model that now also serves companies that want to support their employees affected by cancer.
As part of its ongoing partnership with Perci, Healee is supporting the company in their aim to create customized patient journeys by enabling patient-provider matching and intake workflows that allow for personalized care.
The Role of Healee's Patient Access Platform in the Success of Perci
Rather than building a new patient access platform from scratch, Perci Health recognized the value of utilizing an existing solution that could be configured to their unique requirements. This is where Healee's white label solution came into play.
Healee's platform, which has handled 6+ million appointments to date, is a reliable and robust solution built specifically for the complexity of healthcare operations. The partnership allowed Perci to tap into Healee's established platform while adding their specialized expertise in oncology care. By integrating Healee's platform into their processes, Perci could focus on improving the patient journey, matching providers with patients effectively, and enhancing the quality of care.
The Importance of Robust Patient-Facing Scheduling
One of the important elements of the success of the partnership between Healee and Perci lies in the platform's robust patient-facing scheduling capabilities, which include powerful patient-provider matching and 24/7 self-scheduling. Traditional healthcare providers and digital health companies often face resource limitations, which creates challenges in managing scheduling, patient intake, and virtual care effectively. By leveraging Healee's platform, Perci Health could streamline these processes and provide patients with seamless access to care.
"Еarly on in the journey there were lots of different options that we had," Paddy said on the podcast, referring to the dilemma of whether to buy or build their patient access solution. "And then we came across Healee, who have the white label product. And so the synergies are quite clear, right? There's a white label solution that is a well-established platform doing thousands and thousands of appointments a day, and it's flexible, scalable, and customizable to the bits that we want to change. We don't want to change how scheduling works. We want to change the care that people get and the order in which they can see professionals, get the right information, make themselves feel heard, and get the help that they need. That's the bit we want to add on top. That's the bit that makes us unique."
The white label approach is key to allowing clients to "focus on what they're good at, like the medical aspect, the patient journey, how they provide care, how they connect providers to patients, instead of trying to reinvent the wheel," Josif said. Innovative health companies and traditional healthcare providers alike can benefit from adding a digital modality to their care delivery, he added.
"Why use an EHR to do that? Why try to twist the internal workings of the calendar of the EHR when you can have the patient-facing scheduling that's built precisely for that.
In the case of Perci, Healee's robust patient scheduling solution allowed the company to tackle the demand-supply gap in post-cancer care by democratizing patient access.