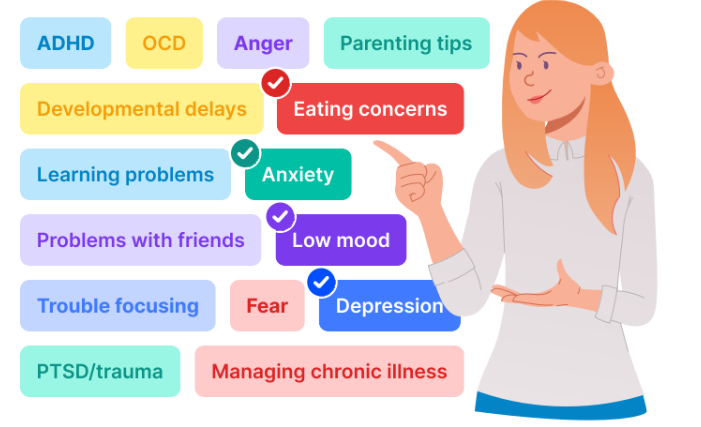 A next generation patient access solution is improving upon the functionality of the current dispersed or inadequate toolset found at medical groups, by making it possible for patients to find the most relevant care quickly, easily and affordably.
Given the growing consumerism trend in healthcare, personalised care means people want to have choice and control over the way their care is planned and delivered. It is based on 'what matters' to them and their individual strengths and needs.
Personalized patient access results in better care, improved health outcomes, reduced costs, prevention of disease progression, reduced wait times, and improved quality of life.
But how do you get there using a patient access solution? Patients, providers, and their organizations both need an efficient process – however driven by differing factors and criteria.
On the patient side, patients need to be able to navigate the maze of services, specialties, payment options, easily attend appointments and follow up on treatments – all based on unique patient geography, conditions, symptoms and other needs.
On the provider side, care teams need to balance the patient flow, fill their calendars efficiently, access patient data easily, keep a long term relationship with the patient – all based on provider's unique availability, preferences and team structure.
Meeting both sides successfully and achieving equilibrium between supply and demand is the next frontier of improved patient access.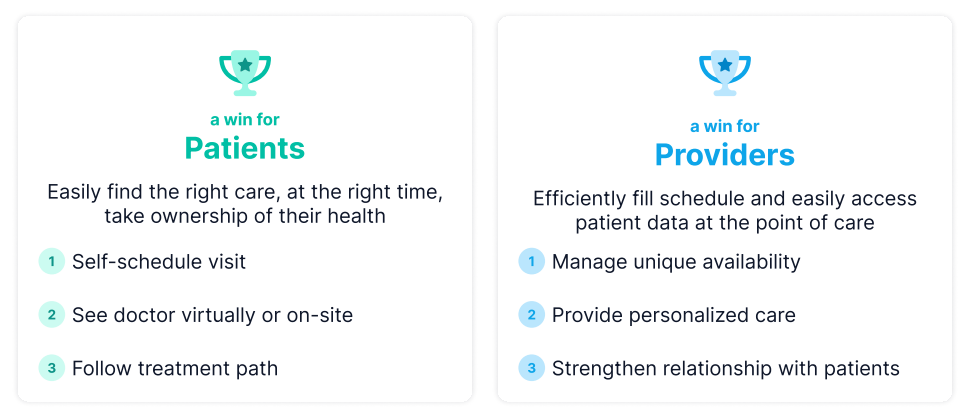 Patient Access: Current State in the United States
According to a global 2023 survey by Ernst & Young access to care and ease of use of healthcare services are of foremost importance to U.S. healthcare consumers.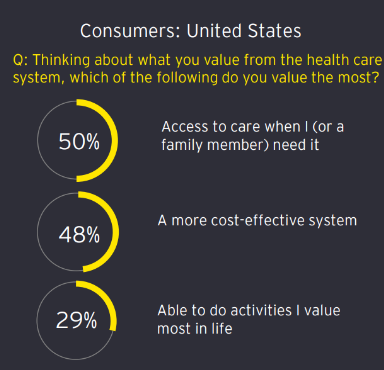 Yet, when asked if they are satisfied with their healthcare system, U.S. respondents confirm that patient access is a major factor that will improve their satisfaction.
My health care system is good, but it could be better.
The U.S. health care system does many things well. Consumers consider it is highly technologically advanced; 56% say it is above average in this aspect.
However, consumers expect:
Better value for money spent overall; 45% say this is below average.
Improved access to care; 32% say this is below average.
Environmental sustainability; 32% say this is below average
Why is Patient Access Difficult: Barriers to Automated Patient Scheduling
A study by the Journal of Medical Internet Research exploring the barriers to automated patient scheduling, complexity was reflected in the way patients were able to find and schedule care, as follows:
Slot unavailability was cited as a deterrent for patients attempting to self-schedule
Ease of use was confirmed to be a key attribute for self-scheduling from the perspective of the patient
Solutions that were bundled with triage featured an algorithm that diverted patients with acute symptoms from the self-scheduling option
Organizations reviewed appointments manually for safety and appropriateness
Best-in-Class Patient Access Solutions: Handling Complexity
Next generation patient access solutions use innovative technology to solve for thе inherent complexities in provider search, patient-provider matching, slot availability and calendar management – such as using data, algorithms, flexible workflows and user configurations to deliver a personalized patient experience.
In addition, such solutions are able to reliably handle the volume of patients, providers and ensuing number of visit transactions and communications – fast and error-free.
Healthcare organizations should be able to balance diverse and growing patient traffic with confidence across multiple channels, facilities, teams, time zones and state licensure requirements.
For example Healee, a best-in-class patient access solution, facilitating 700K+ onsite and virtual visits per month, is best suited to the fast-paced settings at primary and mental healthcare organizations.
Having reliable technology with a strong feature set can help handle all scheduling, intake, pre- and post- visit tasks and route patients with precision – while staff can define how to fill their slots effectively and use their time productively over the care process.
Best-in-Class Patient Access Solutions: Deep Personalization
An integrated patient access solution delivers an all around patient experience – from scheduling, appointment management, and digital check-in to telehealth and patient communications.
Outside of this core feature set, best-in-class solutions also provide workflows and automation to support common clinical and administrative needs that arise along the care journey.
There tends to be fairly wide variation in how well a particular solution serves these needs, and it's often in these areas where provider organizations see the most value of flexibility and configurability options.
Healee – an integrated patient access solution – is by far the only fully configurable scheduling and virtual care solution designed for every member of the care team.
Workflows and automation based on multiple criteria provide the glue between a powerful feature set that provides a personalized experience for everyone involved.

Healee's proprietary technology provides four areas of personalization covering the patient and provider experience per each unique organizational structure.
1. Flexible patient journeys and custom forms
Using Healee's patient portal and unique patient profile capabilities, patients can start and finish their journeys in a variety of ways pre-defined upon your solution's initial blueprint planning.
Multiple and completely autonomous self-scheduling, eligibility and intake workflows and questionnaires are defined by your specific group setup and processes.
In addition, providers can keep a set of condition-specific forms or recommendations to patients and deliver them during or after the visit.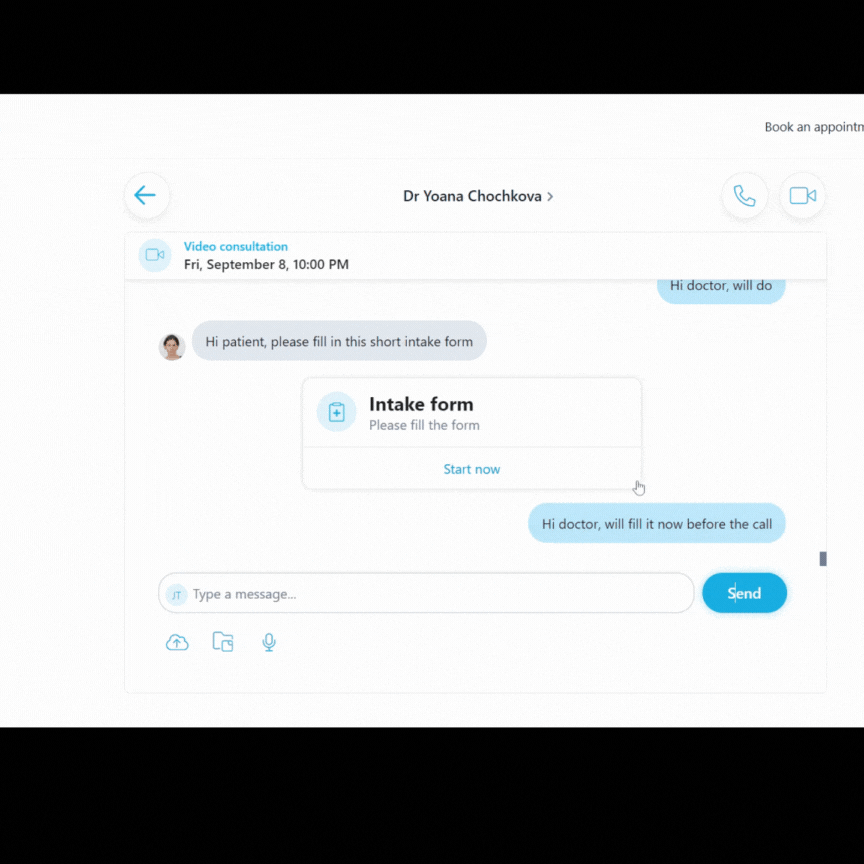 2. Intelligent booking slot optimization engine
Individual providers can input unique availability, preferences, licensure and much more, as part of the solution onboarding as to be able to fill their schedule most efficiently.
Such configurations can include complex appointment types, work hours, modalities and durations and allow multiple practices per provider.
Inputting the settings and preferences for all providers in your practice in the scheduling module is required for the initial setup, in order to enable complex workflows and save a lot of time and manual resources with patient intake and scheduling.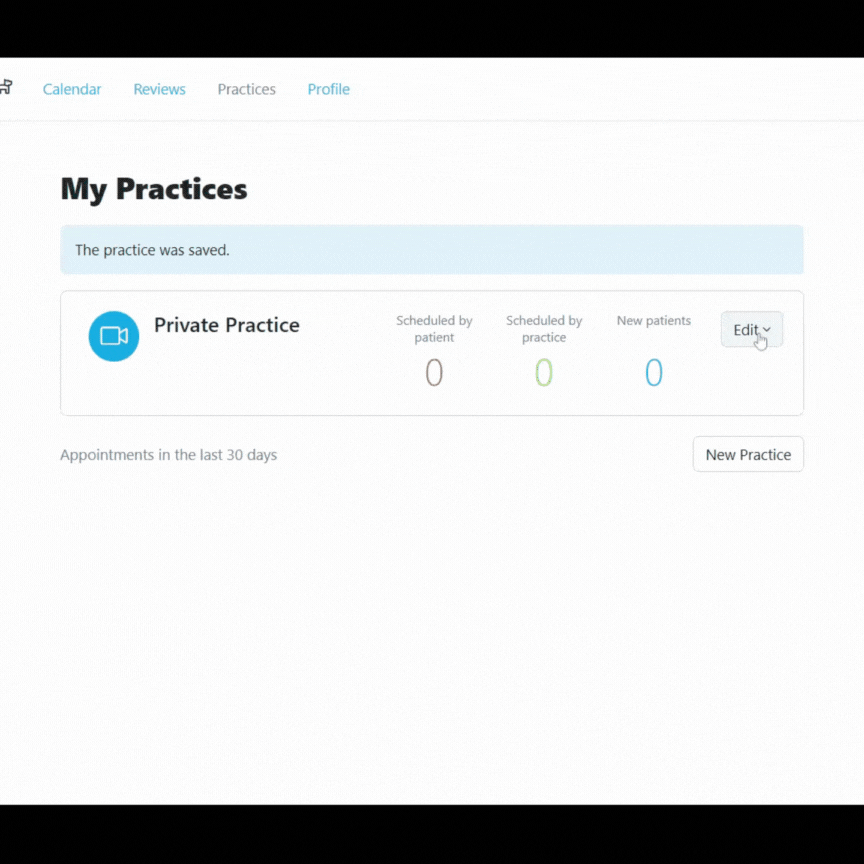 3. Patient-provider matching algorithms
Patients are given the opportunity to fine tune their search based on timing, condition, visit types and countless other factors.
The solution can then perform fast and precise rule-based matching over multiple pre-defined criteria such as state licensure, specialties, symptoms, availability, locations and more.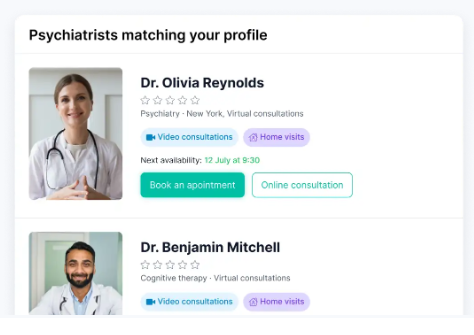 4. Multi-team capacity management
The aggregate calendar management in Healee allows for configuring a variety of user roles and access rights, dashboards and collaboration mechanisms.
Organizations can then achieve full calendar visibility across the network with multiple facilities, time zones, shifts, team roles, centralized bookings and cancelations.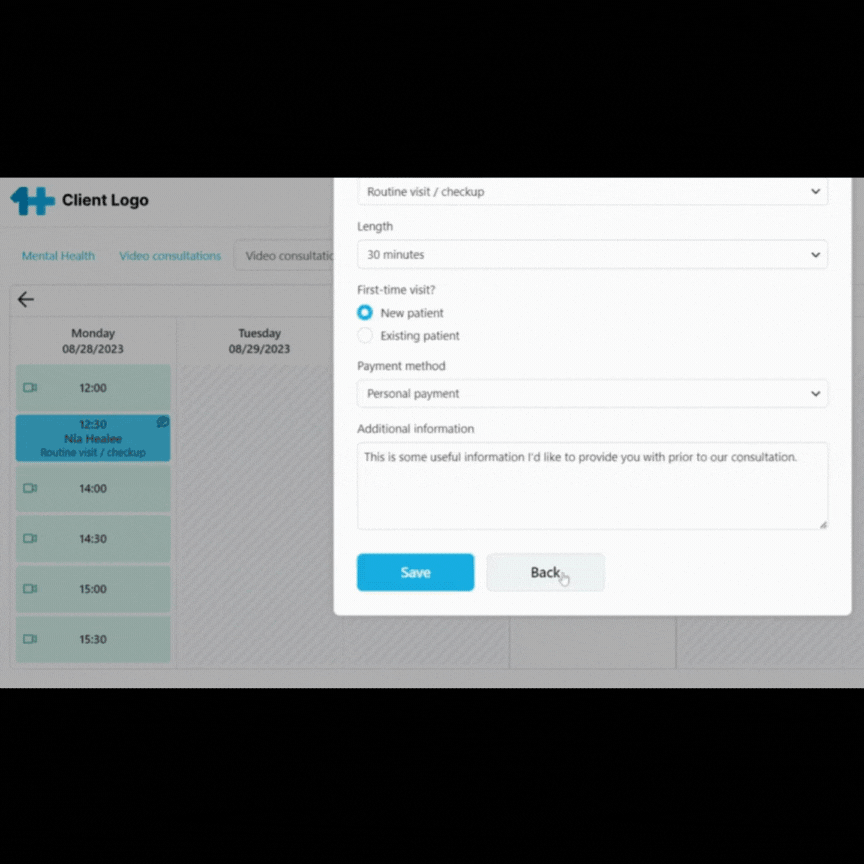 Results
Simplifying the patient journey, with the goal of guiding, connecting and informing healthcare consumers, soon results in more and happier patients. Typical Healee customers among primary and mental health medical groups achieve significant increases in staff efficiency and patient engagement.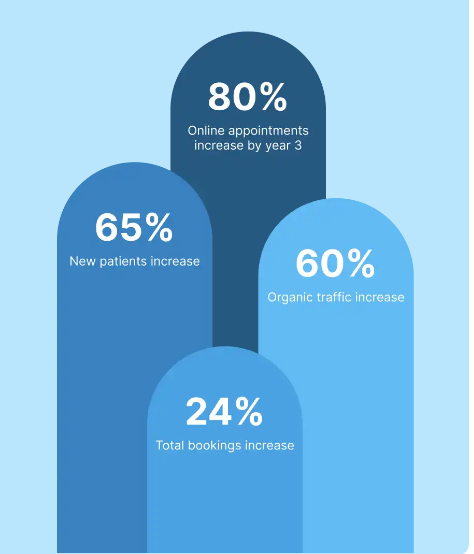 With Healee, healthcare teams attract, engage and retain more patients, while simplifying operations, balancing workloads, and growing profitability.