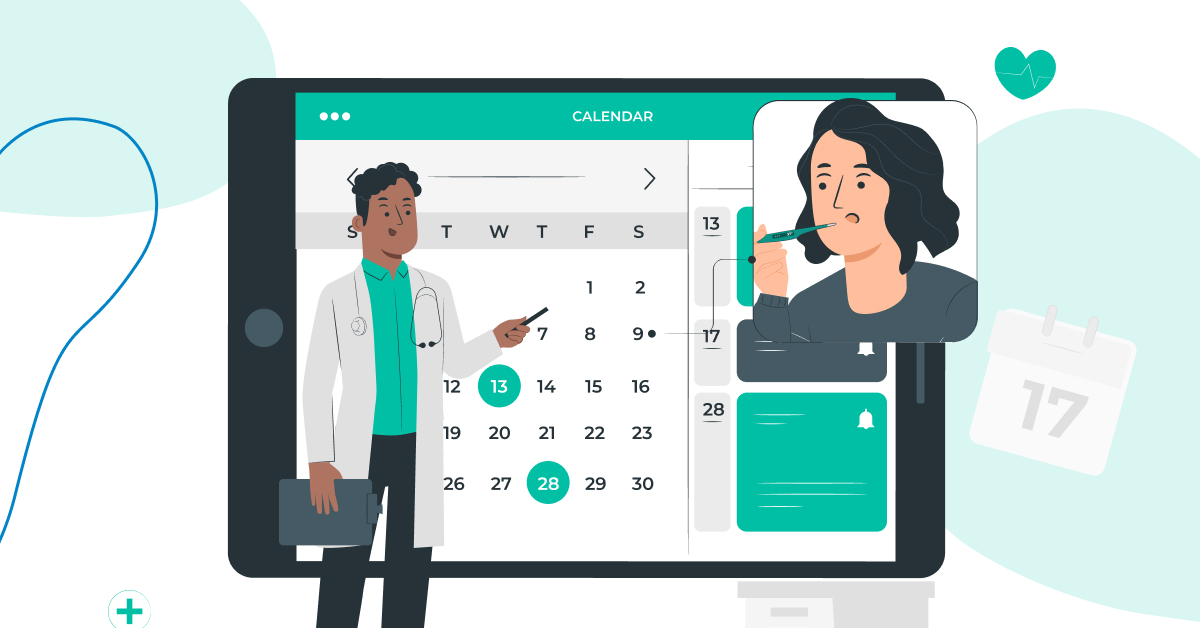 The life of a clinician is a constant juggling act – providing care under tight schedules, managing administrative tasks, and keeping up with the latest medical advances. But what happens when the demand for care exceeds the capacity to provide it? Healthcare providers are often faced with the challenge of balancing the needs of urgent cases, high workloads, and last-minute cancellations. For many health practices and physician groups, this is a daily struggle, as manual patient scheduling leads to overbooking, long wait times, and patient dissatisfaction.
We are all too familiar with the difficulties coming from ineffective patient scheduling in healthcare:
No-shows and cancellations
Patients may fail to show up for appointments or cancel at the last minute, leading to gaps in the provider's schedule and lost revenue.
Overbooking
Clinicians may be tempted to overbook their schedules to meet patient demand, leading to longer wait times and reduced quality of care.
Inefficient processes
Traditional manual scheduling processes can be time-consuming and prone to errors, leading to inefficiencies and reduced productivity.
Unmet patient preferences
Patients may have specific preferences when it comes to appointment times and scheduling, which can be difficult to accommodate with traditional scheduling processes.
Staff shortages
Staff shortages and turnover can make it difficult to manage patient schedules and provide timely care.
Emergencies and urgent cases
Emergencies and urgent cases can disrupt the provider's schedule and require quick adjustments to the calendar.
Limited resources
Medical practices may have limited resources, such as exam rooms or equipment, which can impact their ability to schedule appointments efficiently.
What if we tell you that it doesn't always have to be this way?
A well-designed and automated patient scheduling process allows administrators to avoid spending most of their time on organizational tasks and instead focus on more important tasks such as handling patients who are already in the office. In that way, robust patient scheduling software can dramatically improve patient satisfaction, boost staff efficiency, and cut operational costs.
There are many statistics to back these claims:
About 4 in 5 Americans want to be able to use technology when managing their healthcare experience, and more than 60% of patients say that digital services are important when choosing a physician.
A report from the Medical Group Management Association (MGMA) found that patient scheduling is the patient experience function most important to the success of healthcare organizations. Additionally, according to MGMA, practices that use automated scheduling software save an average of 18 minutes per patient appointment compared to those that use manual scheduling methods.
Those numbers look impressive but how exactly does automated patient scheduling improve the process of scheduling patients?
The advantages of automated patient scheduling
Patient scheduling software brings several key benefits to medical groups, including better patient experience, improved efficiency and schedule utilization, better resource allocation, improved communication, and enhanced data collection.
Improved patient scheduling workflow
Patients appreciate being able to book appointments at a time that is convenient for them. By providing flexible scheduling options, patients are more likely to attend appointments, reducing the number of no-shows and late cancellations.
Increased efficiency
A well-designed and automated scheduling system can help healthcare providers optimize their time and resources, reducing wait times and improving patient flow.
By scheduling appointments effectively, healthcare providers can avoid overbooking or underbooking their clinics. In addition, a robust scheduling system can provide real-time updates on appointment availability, manage check-in procedures, and allow patients to self-schedule appointments. This can help reduce wait times by minimizing the time spent scheduling appointments and reducing the risk of double bookings. All of that leads to increased productivity and revenue, as well as improved patient satisfaction.
Better resource allocation
Patient scheduling software allows healthcare organizations to better understand the demand for different services and providers and thus allocate resources more effectively. This includes ensuring that the right number of staff is available to meet patient needs, reducing wait times, and minimizing patient backlogs.
Improved communication
Well-designed scheduling systems can help healthcare providers communicate more effectively with patients, providing clear and concise information about appointments, directions, and expectations. This can improve patient and provider satisfaction and reduce misunderstandings.
Enhanced data collection
Patient scheduling systems can provide valuable data on patient preferences, appointment volume, and other metrics. This data can be used to improve scheduling processes, identify trends, and inform decision-making.
How to schedule patients effectively: 6 best practices
All of those benefits sound great, but to maximize the potential of patient scheduling software, medical groups need to observe certain best practices.
1. Offer effective patient-provider matching
A robust scheduling solution allows to match the exact patient need with the best suited provider in one easy, smooth and real-time provider search experience.
Robust patient access platforms offer personalize-my-care online forms, which determine each patient's needs based on their demographics, and by using a set of questions to understand their physical and mental requirements. This method allows patients to access personalized treatment plans and match them with the clinician best suited to their needs.
Automated patient-provider matching takes into account providers' characteristics such as provider specialty and state licensure. It also considers patient and provider preferences as well as system requirements (for example a provider to have only four sessions of one type in a day).
2. Set scheduling rules
Establish scheduling rules to manage provider availability, appointment durations, and buffer times between appointments. This can ensure that the schedule runs smoothly and that providers have enough time for each patient.
3. Use automated reminders
Use automated reminders to confirm appointments and reduce the risk of no-shows. Reminders can be sent via email, SMS, or automated voice calls, depending on patient preferences. This helps reduce no-show rates and late cancellations.
4. Allow for automatic notifications
To reduce no-shows and late cancellations, providers should be able to automatically notify patients in case of delays in the schedule or other organizational issues. Imagine that a patient is late for an appointment due to working late or being stuck in traffic. In case the patient receives a notification for a delay in the schedule, they may show up for an appointment they would have otherwise missed.
A robust scheduling solution also allows for mass campaigns that affect many patients. For example, if weather conditions require you to shut down a practice location for a certain period of time, a mass campaign can automatically trigger all necessary notifications to patients that their appointments are canceled or rescheduled.
5. Customize appointment types
Customize appointment types to reflect the specific needs of your practice and patient population. For example, if your practice specializes in behavioral health, a well-designed scheduling solution can allow you to introduce innovative models of mental health care such as group visits. This can ensure that patients are scheduled for the appropriate services and that providers have adequate resources to meet their needs.
6. Monitor performance metrics
Monitor performance metrics such as appointment volume, patient no-show rates, and provider utilization rates to identify areas for improvement and optimize the schedule.
What to look for in a patient scheduling solution
So far we've established that good patient scheduling software can bring lots of benefits to any health practice or medical group. The most important question, however, is how to approach the implementation of such a solution to achieve maximum value.
Naturally, the first question any healthcare organization would have is whether to buy or build their patient scheduling platform.
Building the platform from scratch can have its advantages as it allows companies to tailor it to their specific needs. If you have substantial resources, a designated project manager, a team of experienced developers, lots of time, and a big budget, rolling out your own code may be a good idea. The business reality, however, is often quite different. Healthcare organizations need to get going fast, save money and kickstart a platform that's easy to implement and brings instant value to both patients and clinicians.
Luckily, there are solutions readily available on the market that offer patient scheduling capabilities. However, not all patient scheduling platforms are made equal. An off-the-shelf solution that offers limited capabilities and zero opportunity to personalize your patient scheduling workflows will bring little value beyond moving the process from paper to computer.
What you need is a robust and fully-branded patient scheduling system with features to improve patient satisfaction, streamline operations, and improve care coordination.
Here are the most important features to look for when choosing your patient scheduling platform:
Seamless integration with electronic health records (EHRs)
The platform should be able to smoothly integrate with EHRs, allowing healthcare providers to access patient data and medical histories in real-time, streamlining the scheduling process and improving care coordination.
Allow for efficient patient-hand off
A good patient scheduling system can support effective patient hand-off by facilitating the transfer of patient information and ensuring that the receiving healthcare provider has all the necessary information to provide safe and effective care.
Patient self-scheduling
Patients should be able to book appointments online, making it easy and convenient to schedule doctor's visits from anywhere, at any time. In that way, self-scheduling improves patient satisfaction while reducing the workload of administrative staff.
Customizable appointment types
The patient scheduling system should allow healthcare providers to create custom appointment types, making it easier to manage specific types of appointments and reducing scheduling errors.
Automated reminders and notifications
The platform must allow automated appointment reminders and confirmations via email or SMS to reduce no-shows and improve communication with patients.
Centralized schedule management
For practices with multiple locations, cross-clinic variability drives up administrative overhead and clinic inefficiency. A robust patient appointment scheduling system should allow you to set schedules and manage appointments for multiple providers across multiple facilities in different time zones, and offer patient-provider matching that takes into account state licensure.
Analytics and reporting
The patient scheduling platform should have the capability to provide detailed analytics and reporting on appointment volume, resource utilization, and other key metrics, allowing healthcare providers to optimize their schedules and improve their operations over time.
Personalized recommendations and reviews
To improve patient engagement and satisfaction, a good platform should have the capability to automatically suggest to patients a list of appropriate providers, match patients with the best provider for them, as well allow patients to leave post-exam feedback and reviews.
Customizable access rights
To avoid errors and confusion, good patient scheduling software should allow you to assign different roles and access levels for admins, providers, registrars, and coordinators, as well as apply view-only restrictions for providers, and limit or allow a facility to view and edit another facility's schedules.
Summary
Patient scheduling software has the potential to revolutionize the way healthcare providers manage patient appointments. From reducing no-shows and cancellations to improving patient satisfaction and resource allocation, the benefits of this technology are clear. By automating scheduling processes, healthcare providers can streamline their operations, improve efficiency, and deliver high-quality care to patients.
As we look to the future of healthcare, patient scheduling software will undoubtedly play a critical role in improving healthcare processes and transforming the patient experience. The time to embrace this technology is now, and those who do will undoubtedly reap the rewards of a more efficient, effective, and patient-centered healthcare system.

To learn how Healee can help you launch your patient scheduling solution in just a few weeks, request a personalized demo now.