Virtual care provides an exceptional opportunity for healthcare businesses – from innovative startups to large-scale hospital systems – to offer better services to their patients, all while securing higher revenues and decreasing the administrative burden for clinicians and medical staff. Yet, many health companies struggle to find the best way to incorporate a telehealth platform into their business model.
Recent research by HIMSS indicates that 79% of U.S.-based and 69% of international health system leaders are still in the planning stages of digital transformation. At the same time, according to the 2022 State of Healthcare Report, 84% of industry executives say their organizations require them to use digital health tools and that most clinicians see the value in digital transformation.
Given all the benefits of digital health, why do so many businesses struggle to implement it? Medical companies have lots of organizational resources that need to be pulled together and aligned with technology, which can prove challenging. If not designed correctly, a virtual platform can create additional workload for your staff and fail to achieve wide organizational adoption.
A strong telehealth solution should have an advanced feature set but at the same time has to be easy to implement, scale, and maintain to bring maximum return on investment. The question is: how do we achieve all that?
If you are one of those professionals who have recognized the enormous potential of virtual care, chances are high that the first question you ask yourself going forward is whether you should build or buy your digital health platform.
Build vs. Buy: Pros and Cons
Building your solution from scratch can have its advantages as it allows you to tailor the telehealth platform to your company's specific needs. If you have unlimited resources, a designated project manager, a team of experienced developers, lots of time, and a big budget, rolling out your own code may be a good idea. The business reality, however, is often quite different. You need to get going fast, save money and kickstart a platform that's easy to implement and brings instant value to both patients and clinicians.
At the other extreme, many off-the-shelf fixed solutions can be cost-efficient and ready to use but may not have all the specific tools and capabilities that are essential to your business. They may not be able to accommodate your workflows, niche use cases or specialities, and their non-seamless integration may fail to create user trust and loyalty.
That's where the deep white label comes to play. It allows you to buy a well-tested and validated telehealth platform but configure it to your needs.
Deep White Label: The Sweet Spot between Configurability and Speed
A strong white label telehealth solution allows companies to launch their own fully branded digital health platform within just a few weeks and adapt it to any virtual care use case. In the end, you have a telehealth platform that is fully yours but without the impossible costs and complicated maintenance associated with building your software in-house.
Consider this example: back in 2021, UK-based Perci Health did not have any digital health solution in place. In just three months, the startup has launched its fully integrated white label telehealth platform, which secured it £1.5 million ($1.85 million) funding and empowered the company to offer holistic virtual support to people living with cancer.
What makes such success stories possible?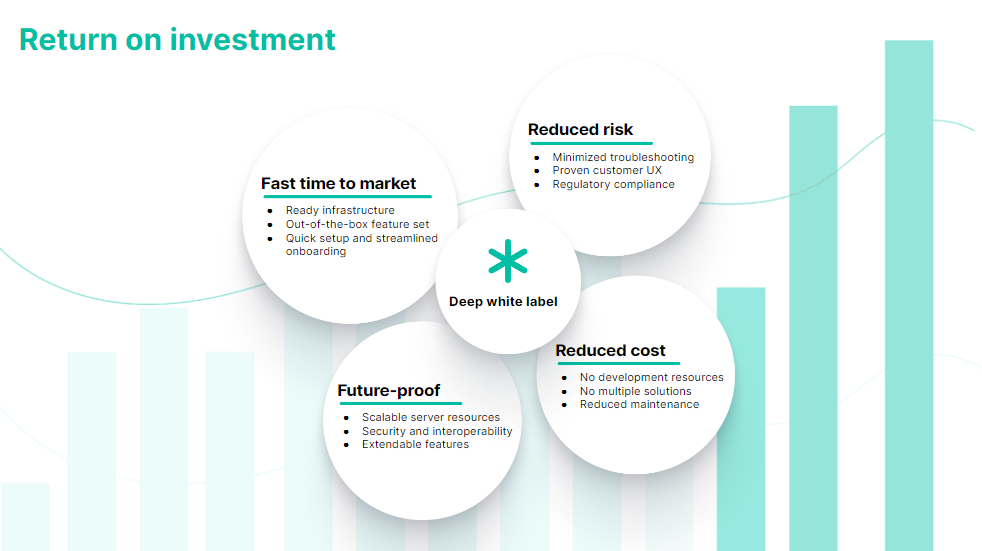 A Telehealth Platform that Brings High Return On Investment
Buying a white label telehealth platform guarantees a much higher return on investment (ROI) compared to building in-house. The speed of implementation, coupled with the comprehensiveness and interoperability of a white label makes it the preferred choice for medical organizations across the globe.
There are four major ROI components that are key to success:
#1: Fast Time-to-Market
A white label telehealth platform comes with ready infrastructure and out-of-the-box feature set that is quick to set up and ensures streamlined onboarding.
This allows you to start nimble and then scale based on your organization's evolving needs. This MVP (minimum viable product) approach is a popular way of getting your initial product off the ground quickly and effectively so that you can prioritize your needs and resources.
For example, if your organization is currently not focused on remote patient monitoring, you can remove items such as vitals tracking or health records and keep your platform simple and user-friendly instead of creating an additional administrative burden.
#2: Reduced Cost
Buying a white label telehealth platform instead of building it from scratch is the more cost-efficient choice as you won't have to invest development resources or integrate multiple solutions.
Once live, the solution will also require much less maintenance than an in-house platform. That's because unlike off-the-shelf solutions or creating your platform from scratch, white label builds upon user experience (UX) over many customer iterations to reach a point of proven performance and satisfaction. The well-tested and validated feature set means that bugs and troubleshooting will be brought to a minimum during the initial stages of deployment.
#3: Reduced Risk
The proven customer UX and minimized troubleshooting means reduced risk for your company. A good white label platform is also fully regulatory compliant, including under the Health Insurance Portability and Accountability Act (HIPAA) and EU's General Data Protection Regulation (GDPR).
#4: Future-Proof
The scalable server resources, the security and interoperability, and the extendable features of a white label allow you to adjust the pre-built core functionalities to fit your exact use cases and adapt to diverse and evolving requirements and organizational roles. That makes the platform a future-proof partner of your business growth and success.

Millions of patients and thousands of doctors have trusted Healee's deep white label platform. Healee's fully HIPAA and GDPR-compliant solution includes an exhaustive feature set and configurability options that help power unique digital health models quickly and cost-efficiently.
To learn how Healee can help you launch a custom telemedicine platform in just a few weeks, request a personalized demo now.