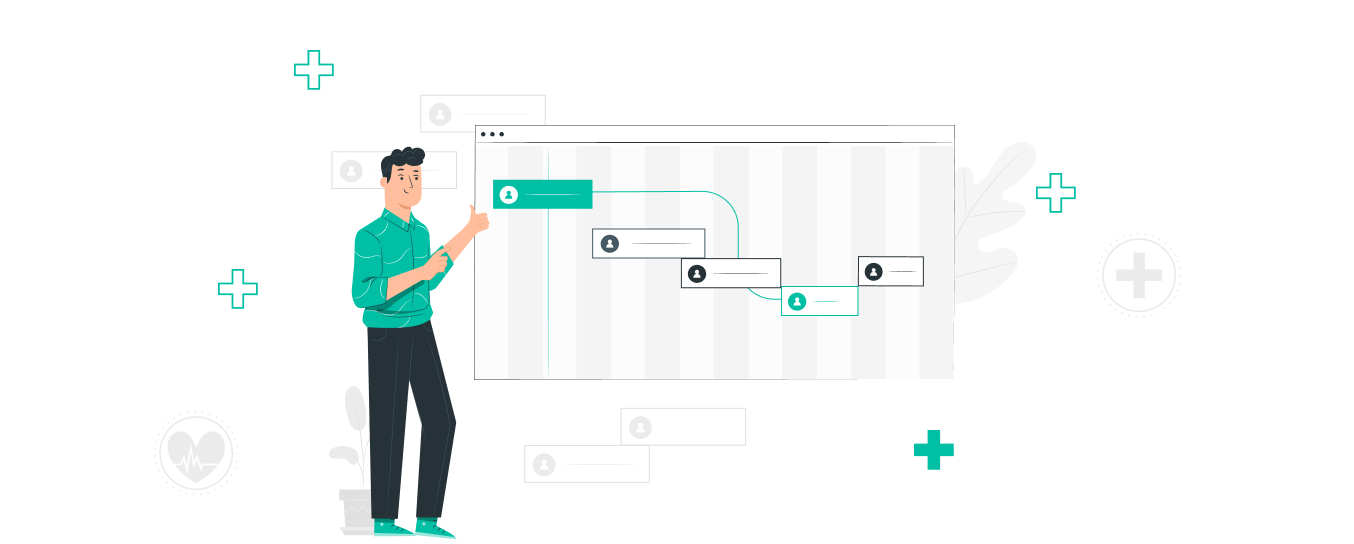 Faster implementation of a custom telehealth platform means competitive advantage and shorter time to revenue. Finding the right approach to planning and launching a virtual care platform can also help with better organizational engagement and adoption. Choosing to start with a minimal viable product (MVP) can help you get started quickly, build, measure and scale as you go.
Implementing any new technology in the workplace can have wide-reaching organizational benefits. But the challenges lie in selecting the capabilities that are crucial to getting started, and then finding the solution that fits your goals, processes and existing infrastructure. That applies to digital health as well – some projects notoriously take many months…if not years.
Not surprisingly, 80% of U.S. health systems are still in their initial stages of digital transformation. Change is happening slow due to difficulty in planning, requirements gathering and staff training. With new healthcare companies, the trouble comes from trying to roll out too many features all at once and delaying launch until all variables are planned for – which may take forever.
Selecting the right telehealth technology to get started fast
The alternatives to choosing a comprehensive digital health solution containing telehealth, digital check-in and scheduling capabilities can include starting custom development from scratch, trying to patch up legacy tools, or finding a static SaaS solution hoping it can fit your clinical processes.
There is a fourth – and much superior option – adopting a deep white label custom telehealth platform that gives you the ability to launch all the advanced features to practice digital health with – easily adapted to how you work and do business.
Implementing a telehealth deep white label solution
A deep white label technology relies on highly configurable building blocks which can be arranged in a way that best fits a client's existing workflows and systems, as well as the unique patient journeys.
Therefore, launching a deep white label solution is way easier than developing from scratch, but still requires a bit of planning. On the other hand, compared to a static SaaS solution, a deep white label helps you with:
Offering a fully branded patient experience
Enabling all your organizational workflows
Modifying or building features that fit niche use cases
The powerful configurability options of a deep white label solution gives clients maximum freedom to adopt any part of the core solution, with as much or as little customization as they need. The technology can easily accommodate niche new functionalities to facilitate unique patient journeys or new care models. Last but not least, in an industry subject to stringent regulation, deep white label telemedicine platforms are incredibly agile in their ability to adjust quickly to changing compliance requirements.
Using the MVP approach with a custom telehealth platform
The MVP approach (minimum viable product) became popular in agile product development as a quick and effective way of getting your initial product in the hands of early users, getting your startup off the ground, driving your future product's design, features, and user experience.
Professional product managers are well familiar with the idea of starting nimble, as a good way to prioritize resources and plan an attainable launch schedule.

An MVP IS the product – in the case of a telehealth platform this includes features, workflows and logic – that you are happy to go live with. Following the initial launch, the solution can be enhanced gradually with more features and functionalities.
The custom telehealth platform MVP is the result of a structured planning process in which information has been gathered from all relevant teams within the organization so that all workflows and patient journeys are clearly defined. Along with the priorities addressed by the MVP, the planning process also outlines the features to be added at later stages.
Weeks 1-2: Setting up your telehealth platform replica
A Healee-based white label telehealth replica contains all the features of the core platform, fully branded and hosted on dedicated servers. The process starts with defining the key inputs of the client's version of the platform. These parameters include:
Branding and design assets
Preferred names and URLs of the various apps
Initial description of the patient journeys
Once all needed parameters have been provided, Healee's team sets up a staging version of the replica. It usually takes 15 days to create a fully custom-branded 'sandbox' version of the client's platform. The sandbox version allows both the white label vendor and the client to create test data and deploy and test new features. This is also the stage when basic workflows are initially configured.
Weeks 2-4: Defining the telehealth platform MVP scope and launch schedule
This next stage, which can overlap with the replica setup, is key to creating a successful and user-friendly white label telehealth platform. It involves analyzing and mapping out all processes, such as workflows and patient journeys, which should be accommodated by the completed solution. While it is desirable that all workflows and patient journeys are written out, the more complex processes could also be depicted via visual mock-ups so that the white label telehealth vendor can fully understand the underlying needs of the client. On average, it takes about two weeks to gather, process and summarize all information into clearly defined requirements.
Once all relevant workflows and patient journeys have been analyzed and understood, it is time to prioritize which features are absolutely essential to start with, thus defining the scope of the MVP. At the same time a list is compiled of the features and functionalities to be added to the white label telehealth platform at a later stage, once the MVP has been successfully launched.
Week 5 and beyond: Configuring and customizing your MVP
The duration of this stage depends on the complexity of workflows and the number of customizations required as outlined in the MVP planning document.
For customers who choose to stick to their basic workflows and the standard features provided with the core Healee version, this process can take a fairly short time, focused primarily on testing and fine-tuning the setup. Customizing Healee is a continuum, where you can go from minimal to deep.
With the MVP clearly defined, the telehealth infrastructure vendor starts implementing the needed items. Once a task is completed, it is deployed on the staging servers so that the client can run tests and provide feedback.
User training and go live
Another step which is absolutely essential to adoption rates and therefore the success of any digital health solution is training. While it is not possible to hold mandatory training sessions for patients, the telehealth technology provider should train internal users, both providers and support staff prior to go live.
Conclusion: Tips to success
All the above timeframes indicate optimal durations, given that all inputs, pre-requisites, dependencies in the process, testing, client availability, work prioritization and contractual agreements are moving as required.
Success of the white label onboarding process is a mutual collaboration in planning, testing and launch activities between the customer and the technology vendor teams.
To learn more about Healee's deep white label onboarding process, request a personalized demo.