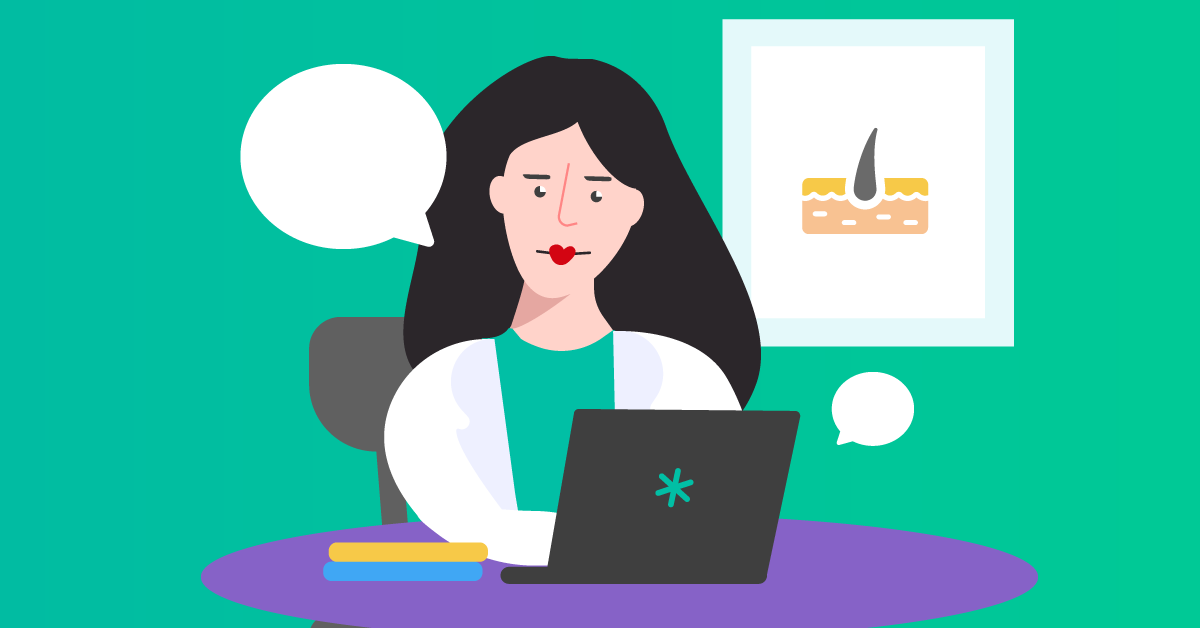 Тhe COVID-19 pandemic brought many uncertainties in regards to in-person consultations for many dermatology and aesthetic clinics and practices. The second wave closed these private dermatology and aesthetic practices and only allowed emergency calls in the clinics. Additionally, more and more patients are looking for medical consultations because several skin conditions have emerged, mainly as a result of prolonged contact with protective masks and gloves and excessive use of disinfectants. Many specialists had switched to the new norm and embraced online consultations in the form of telehealth and diagnose and treat patients at a distance. Telehealth platforms have greatly stepped up their ability to deliver care and increase efficacy with their patients.
Now more than ever, telehealth helps you provide healthcare to patients anywhere, anytime during the pandemic, and achieve better treatment outcomes. Telehealth platforms like Healee help aestheticians and dermatologists create a new revenue stream, and be more efficient and flexible when delivering care to patients.
A 14-year review that was conducted between 2004 and 2018, concluded that telehealth consultations from one UK centre prevented more than 16 000 face‐to‐face appointments over the span of 14 years. You can imagine what the statistics will be over the last months with the COVID-19 outbreak. For example, statistics from September 2020 show that in the USA, 86.5 % of dermatologists used telehealth as an alternative to a personal consultation since COVID-19 came. Moreover, other statistics show that dermatologists in private practices can compensate for the restrictions of the COVID-19 pandemic and fill the void that was created by the pandemic, by providing telehealth to patients.
Dermatology is well suited for telehealth. It is in fact among the top 5 specialties that patients search for the most, and the specialty with one of the best outcomes. Patients are already giving positive feedback from these virtual consultations аnd for them telehealth is the new way to see a dermatologist from the comfort of their home, office or really anywhere without exposing themselves to the virus.
Healee is one such telehealth platform that is as easy to download just like you download a traditional communication app that you use to connect with patients. Yet the difference is that unlike traditional communicating channels, telehealth platforms offer you all the tools you need in order to provide a fully comprehensive medical consultation – your personal profile, secure communication options, easy access to and exchange of health data, flexible payment options, medication prescription and more.
You will not only provide immediate care to your patients in need but you will also give them a secure, HIPPA compliant space where only you and the patient can see the messages you exchange and where video calls are encrypted.
Here is what dermatologists share about their telehealth journey with Healee:
"Healee saves both my patients' and my time and allows me to focus on what really matters: delivering better care. The platform allows patients to send high-quality images and videos. This helps me be accurate and provide meaningful advice, no matter whether it's a follow-up or a new patient."

Dr Jessie Felton, Dermatology · Haywards Heath
Read along to learn more about the benefits of remote medical consultations via telehealth for dermatologists and aestheticians, and which skin, hair, and nail conditions can be treated via telehealth.
Benefits
(learn about all Healee MD benefits and features here)
Improves treatment efficiency
With the easy access to specialists within telehealth, patients can reach you as soon as they notice a concern with their skin, hair or nails. You can choose on your Healee profile what will be the timeframe you will respond to patients which results in more happier patients. They don't have to wait for the pandemic to die down to book an in-person appointment in the clinic to have a medical consultation with you. Instead, with telehealth, patients can send you their medical inquiry and photos of the affected area over chat, video or audio call and connect with you right away. You can ask for additional medical data and according to the data, come up with a conclusion, provide a treatment plan and also follow-up with the patient resulting in improved outcomes.
Offers you rich communication options
Within Healee, you and your patients enjoy secure chat and live video or audio calls. Moreover, Healee has been working hard to constantly add new features to help you address the vast volume of people with skin conditions. One of these new features is the conversation rooms for specialists (doctors, nurses, aestheticians, etc) which allow providers to connect with each other via live chat or video, using a secure, encrypted connection to exchange patient info and discuss complex cases. Healee also offers an option that allows specialists to send mass message campaigns to their patients for clinical updates, schedule changes or any future campaigns that will be held in the clinic.
Easy access to patient data
With Healee, you can view both dynamic and static images, lab results. In Healee, patients can send all data, photos and questions prior to the online consultation which helps you triage your patients more easily. Patients can fill out your personalized medical forms prior to the consultation and spare you the time for asking additional questions. They can send their vitals, past and present symptoms and conditions, treatments, medication schedules,etc. With the high-resolution cameras on phones, patients can send you high-quality photos showing in detail the condition they are worried about.
Access to patients from different locations
Telehealth removes barriers to medical access to patients living in distant locations. It is known that dermatologists and aestheticians are mostly concentrated in urban environments which makes it very hard for these patients to reach you on time. Telehealth services help you simultaneously interact with the patient despite physical barriers and helps patients have a more active role in managing their skin, hair and nail health. For instance, when a you register with Healee, you also get a unique Healee page that you can send to patients in order to notify them that you are launching online consultations. You also receive a dedicated Healee button that you can embed on your personal website or on the website of the clinic you own/work for.
You can get all of this within the same day of the registration, without any extra efforts on their side for further integration.
Меdical concerns that can be analyzed, diagnosed and treated via telehealth
(over 3000 skin conditions can be treated via telehealth)
Skin conditions
Some of these 3000 skin conditions are eczema, psoriasis, shingles, poison ivy, rosacea, edema, melasma, vitiligo, crural ulcers, rashes, acne and acne scars, moles and spots, warts, xerosis (dry skin); actinic keratosis; dermatitis (contact and seborrheic dermatitis, neurodermatitis); herpetic infections, dyschromia.
Hair and other cosmetic disorders
Localized/diffuse alopecia
Benign/malignant neoplasms of skin
Dermatology concerns that CANNOT be treated via telehealth
Cosmetic procedures and surgeries
Skin cancer diagnoses and treatment
Skin biopsy or other advanced treatments that are only deliverable in a clinical setting
Dermatoscopy procedure
Yet, dermatologists can use telehealth for postoperative online visits for routine follow-ups or to check a healing incision.
The Future of telemedicine in Aesthetic care and Dermatology
Teledermatology has proved to be an invaluable part of many practices during COVID-19 as an adjunct to in-person inpatient consult service. By extending the traditional continuum of care, telehealth services offer a full spectrum of preventive healthcare interventions, medical support designed to improve outcomes and increase convenience for patients and their families.
You already can see many dermatologists and estheticians offering telemedicine to their patients, so why shouldn't you? Revolutionize how you provide care to patients now. Increase access to dermatology care to patients and address their needs wherever they are located. Give us a call today and you will be able to provide online consultations the same day!
Build your virtual clinic and start seeing your patients online with a few clicks.
Download Healee MD here: https://www.healee.com/en/doctors.
Set up your payment fees and your patients receive care when they need it the most!
Follow Healee on Linkedin: https://linkedin.com/company/healeehq
Follow Healee on Twitter: https://twitter.com/HealeeHQ