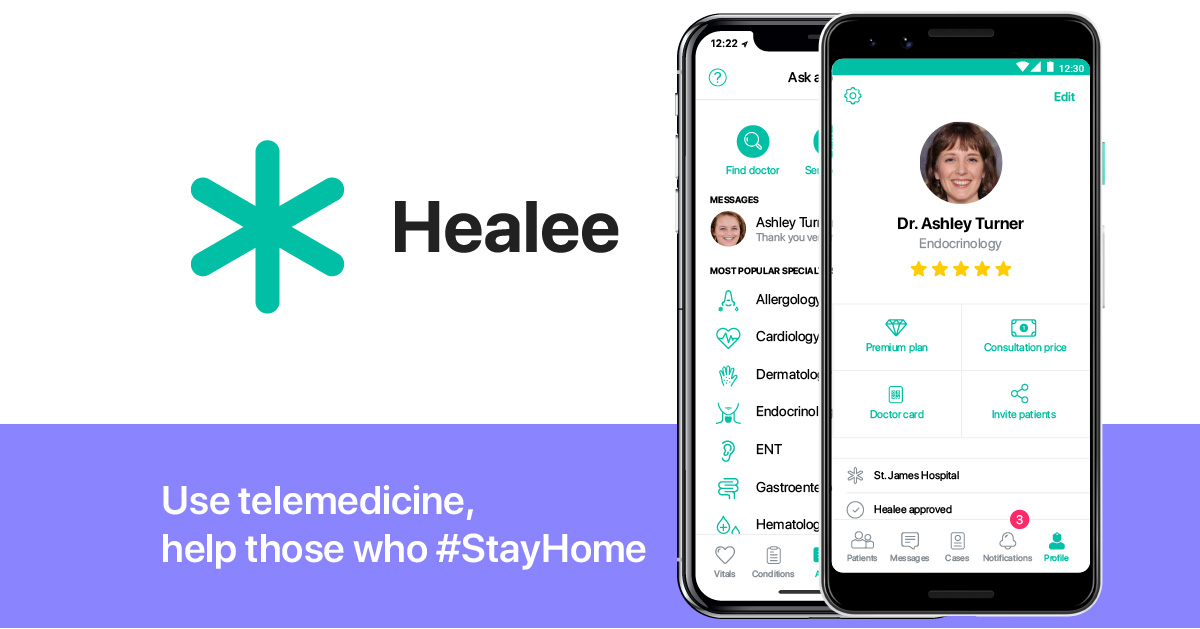 As the new coronavirus spreads throughout the world at a staggering pace, our lives and the very fabric of society are changing by the day.
Undoubtedly, all the suffering and the sweeping loss of life are the most shocking and profound consequence.
Аnother aspect, certainly less dramatic but still very crucial, is the impact on businesses. There virtually isn't a sector or a company that is not influenced by the coronavirus outbreak in some way.
Telemedicine – helping patients, supporting doctors
Digital health, and telemedicine in particular, is no exception. Over the last few days, as live hospital visits are being restricted, telemedicine providers across the globe are witnessing spikes in demand as people are scrambling to get medical advice.
In times like these, telemedicine is essential, to patients and doctors alike. It is the most appropriate, and often only option for people to talk to a doctor, without exposing themselves and others to the risk of infection, and without putting further strain on the heavily overloaded hospitals.
Preserving physical health
It might seem counter-intuitive, but combating the pandemic includes keeping people out of hospitals as much as possible.
Statistics show that nosocomical (hospital-related) transmission plays an important role in the spread of COVID-19. Last month, in the early days of the outbreak, a study released in the medical journal JAMA indicated that 41% of the first 138 patients diagnosed at a hospital in Wuhan, China, were presumably infected in that same hospital.
The same happened at the Codogno hospital in Italy in late February, when a patient, presumably the country's "COVID-19 patient one", infected other patients and eight hospital workers.
In other words, during outbreaks, hospitals quickly become places where the risk of getting infected is considerably higher than average.
With telemedicine, people can get the much needed medical advice via an online consultation, without getting exposed. This is particularly valid for chronically-ill or elderly patients, who might periodically look for medical attention and frequently visit the emergency department (ED). Moreover, as evidenced by a report by Premier, around 30% of ED visits among patients with common chronic conditions are potentially not needed. If telemedicine can help avoid hospital visits, especially unnecessary ones, then it's an indispensable tool in keeping patients safe and away from infection hotbeds.
Helping people cope mentally
There are important mental health implications, linked with isolation and social distancing. A recent rapid review, released by The Lancet, established that quarantine is often associated with confusion, anger and PTSD-like symptoms, with some research indicating that these effects could be long-lasting.
In times like these, it is crucial and reassuring for people to know that they have quick and easy access to doctors to talk to, even if it actually turns out that their problem is not physical in nature, but psychological.
What's more, using telemedicine, people can see a therapist, to help better cope with the isolation and negative emotions.
Relief for overwhelmed hospitals
Curbing hospital visits, especially ones that can be handled via telemedicine, is essential. If too many people are referred to treatment, hospitals waste valuable resources and risk overwhelming staff, in a time when doctors and nurses are the most precious resource.
There were a number of reports from China and Italy about sleep-deprived doctors and nurses, having to work for more than 48 hours straight, collapsing with exhaustion.
Less exposure for doctors
Patients in waiting rooms are not the only ones exposed. Multiple reports have indicated that hospital staff have contracted the infection after coming into contact with patients. This is only aggravated by global shortages of masks and protective gear. With telemedicine, many doctors, depending on their speciality of course, can provide care to patients without being at the hospital.
Telemedicine on the fast track
Telemedicine will be one of the crucial tools in the arsenal to combat the coronavirus pandemic. This is clearly recognised by both the private and public sector.
Telemedicine providers in the US are reporting demand is rising, pushed by the coronavirus outbreak.
We, at Healee, are seeing the same: over the last two weeks we've witnessed a 250% hike in daily doctor and hospital registrations, along with a 300% jump in online consultations, compared to last month.
What's more, we are also seeing firsthand how combining telemedicine with online booking of live visits, when necessary, addresses the current situation even more comprehensively. In some cases, an online consultation is not enough, and a live visit is needed. Superdoc, our online booking service, allows patients to book appointments, leading to much more efficient doctor schedules and less crowded waiting rooms, thus limiting the spread of infection.
Even the public sector, which is usually much slower to react, is moving quickly. A number of countries, including the United States, Canada, and Australia, are taking measures and introducing regulatory and funding changes to stimulate the use of telemedicine.
Although all these measures are somewhat limited, they will stick. The strong momentum that telemedicine will undoubtedly gain during the quarantine period, will be preserved. For one simple reason. Besides an indispensable tool during these difficult times, telemedicine is, above all, one of the few meaningful solutions to relieving the burden and making healthcare more accessible once life returns to normal.