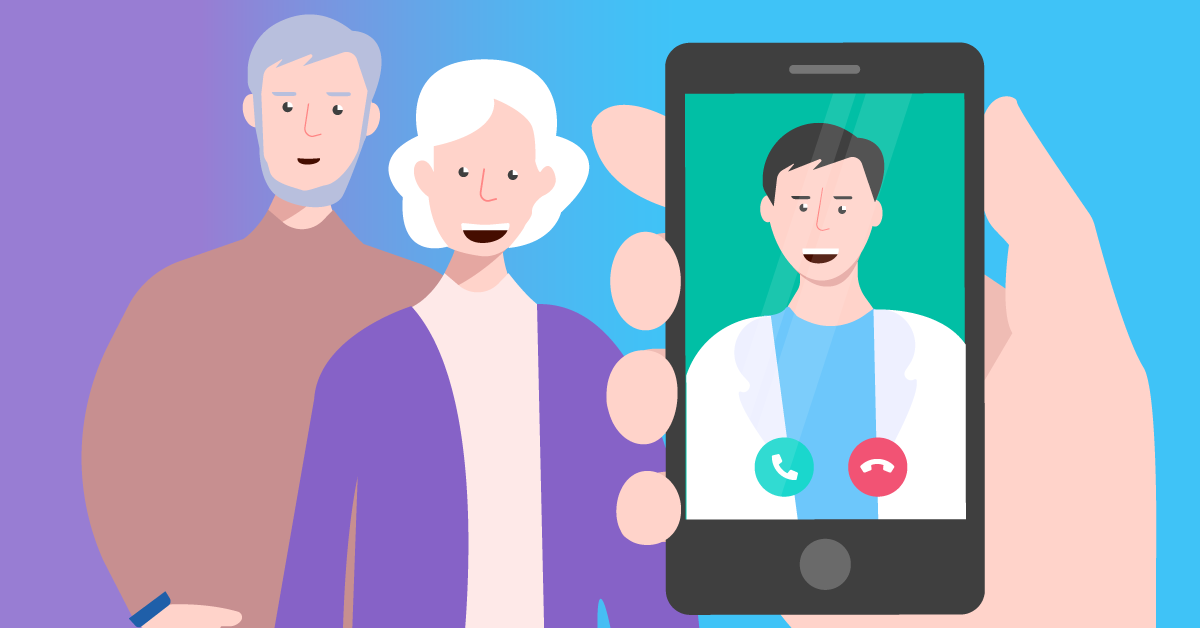 Summary: As the world becomes more and more digitized, and telehealth adoption increases, older adults are being left behind because they meet particular challenges in adapting to the digital world. This blog post discusses the misconception that providers can do little to help seniors adopt digital health and introduces 5 tips on how healthcare specialists can make digital health practical for seniors.
One of the objectives of healthcare innovation should be to simplify a senior's healthcare journey, which is already full of obstacles. Nearly one-third of all seniors live by themselves, according to the U.S. Census Bureau. That's close to 13.8 million seniors aging alone. These people need medical care the most and statistics show that they are ready to learn how to use new digital tools. Virtual consultations with specialists have become mainstream and providers use the opportunity to make healthcare access easier and more valuable for all patients, seniors included.
Healee wants to share these tips to help providers like you navigate seniors who are hesitant to use telehealth but can use the benefits of long-distance care.
Disclaimer/ Nota Bene for providers: The tips do not apply to older adults who face barriers like lack of access to appropriate technology, lack of access to the Internet, or patients who face physical and cognitive challenges like vision, hearing, mobility and memory impairment.
Although people assume that older adults often have lower digital literacy and are disengaged from the digital world because they have grown up in the age of traditional medical care, research shows that they are actually incredibly receptive to digital communication.
People over 65 years old have already learned to use technology to communicate with loved ones, stay up-to-date with news, monitor and manage their health and safety, entertain themselves and more. Another survey shows that overall use of telemedicine services among seniors surged 300% during the COVID-19 pandemic, which should not be a surprise.
Being the most vulnerable group with higher risk of complications and severe illness with COVID-19, seniors are the ones who require continuity of care the most.
The national survey by the Pew Research Center's Internet & American Life Project revealed that 58% of people aged 65+ seek healthcare information online and 43% search for healthcare information on Facebook. Based on these numbers, it's safe to say that the elderly are already more technologically savvy than we give them credit for.
With 76% of older adults in the US staying in their homes, according to AARP, health tech platforms and providers can have a huge impact on seniors' health and safety.
So let's go over the 5 tips you can use to help seniors adapt to digital health:
1. Promote awareness of telehealth technologies
Seniors can have a meaningful medical consultation with a specialist without having to ask someone to drive them to a clinic/hospital or having to think about any sort of transportation to the medical facility. Tell them that they do not need to leave their homes or comfortable beds and can contact you anytime, anywhere through their phone or tablet.
Advise them that through telehealth you can closely monitor changes in their health status – high blood pressure, high temperature, etc, and give a timely response and treatment plan. They might not have access to that information so build a good patient-doctor relationship by introducing all telehealth benefits like at-home rehab technologies for patients who leave the hospital after major events such as heart attack or stroke.
2. Help them navigate through the telehealth app and tell them what to expect from a virtual visit
Ask seniors if they have a smartphone, tablet or desktop computer with camera and internet. If they do, they are suitable for a telehealth consultation. During an in-person visit, you can help patients download the app, tell them what to expect from the virtual visit and give them instructions on how to use it. Even better, you can do a mock telehealth visit while at the office.
You can help them navigate through the platform a bit so that they can see how easy to use it is. Assure them that if they already use any of the traditional communication channels like FaceTime, WhatsUp, etc., they can easily navigate through telehealth platforms like Healee too. Once they get familiar with the navigation they will feel empowered that they can use it on their own. After all, most seniors want to be independent and not rely on others.
3. Talk and motivate patients' family and friends to create a supportive network
Family and friends play an important role in older adults' health. Engage caregivers (predominantly patient's family members) to hasten the communication between their relatives and yourself. Family and friends can have a big influence on older adults to adopt new technologies. You can even offer Healee's newest feature, a multi-conversation room that allows caregivers to participate in the communication between the patient and the provider. Learn more about the feature.
4. Take the time to learn what their concerns and hesitations of digital health are
Patients value your advice. Tell them that the telehealth sessions can feel a little awkward the first time, however, with time they get very comfortable and most people prefer them. They notice when you care for them and they also notice when you listen to them carefully. So do not rush to end the medical visit early. Instead, ask about their fears and then address them.
See if you can alleviate some of their insecurity and doubts and build their trust in digital technology by talking about the impact telehealth has on their health and lives. Mention they get freedom and flexibility, become more active and independent, reduce travel costs, spend more time on their preferred activities and less time traveling to and from medical offices. Research has shown that digital health recommendations from a healthcare provider improves the rate of adoption, especially in older adults.
5. Teach seniors how to book in-person or online consultations virtually
Even though Healee's app for patients has been made specifically with an easy-to-use interface, don't assume that older adults will be able to navigate through a telehealth app from the start. Most seniors might have not even heard about telehealth consultations, let alone online appointment booking. They still travel big distances to try to catch a doctor who turns out to be out of the office at the time. Simplify their scheduling by showing them every step of booking an appointment directly from their phone or tablet, and into your calendar.
Again, you can make a mock online booking while at the office. Impress them by telling them about the SMS, email and instant messenger notifications they get for their upcoming consultation. This will make patients even more comfortable because they do not have to worry about forgetting about the appointments and missing them. We should all understand that the problem isn't really the seniors themselves but the challenges they face. And telehealth apps, like Healee, address these challenges but also need doctors to make digital health easier for seniors by giving them some guidance.
Conclusion
We created this blog post because it is our mission to help seniors safely get the care they need whenever they need it and make them comfortable with telehealth, during the pandemic and beyond. The tips shared above give you insight to the perceived barriers seniors face when adopting telehealth. You also learned from evidence that older adults readily have a great commitment to learning new mainstream technologies when a device or service is demonstrated to have immediate relevance to their quality of life.
So if you haven't tried any or some of these tips go and try them! By providing seniors and their families with virtual access, you help reduce the need for unnecessary hospital and emergency room visits. Moreover, regular online visits with your patients help you address more serious conditions on time. Providing timely and thoughtful care virtually via telehealth helps you improve seniors' quality of life, satisfaction, and overall outcomes, whether they remain at home or in a care setting.
And don't forget to tell us what response you got.
Share with us your success or if any challenges you face in the comment section below.