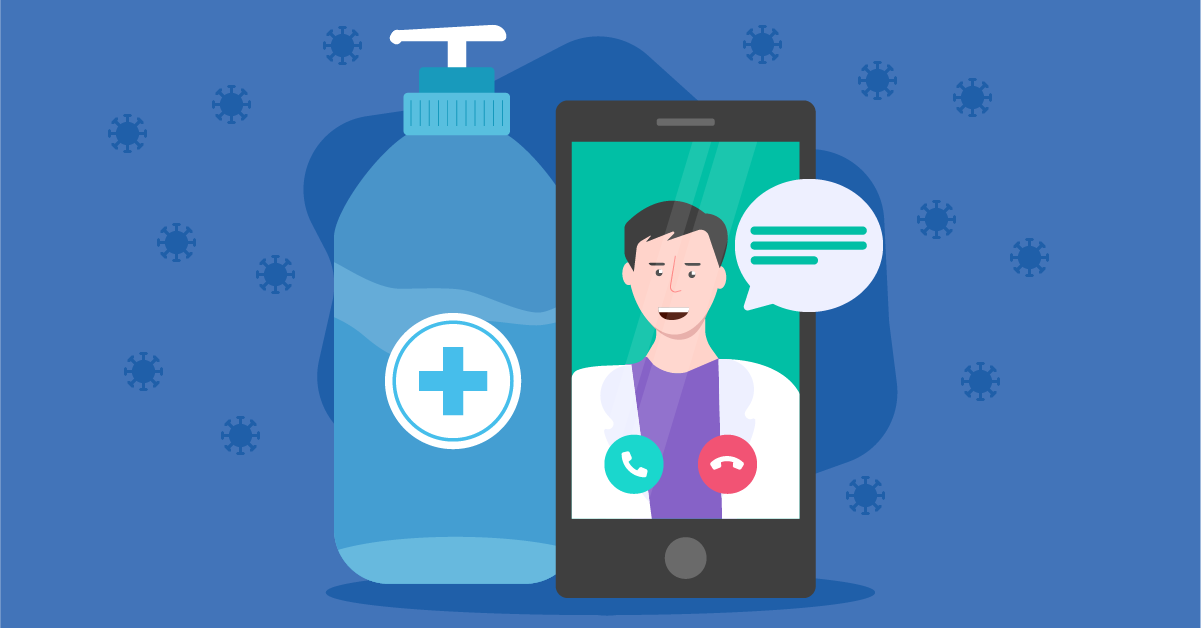 After the world was hit by the COVID-19 pandemic earlier this year, there virtually isn't a sector or a company that is not influenced by the coronavirus outbreak in some way.
Telemedicine – helps patients, supports doctors
Digital health, and telemedicine, is no exception. Over the last few months, as live hospital visits got restricted, telemedicine providers across the globe witnessed spikes in demand as people scrambled to get medical advice.
In times like these, telemedicine is essential, to patients and doctors alike. It is the most convenient, and often the only option for people to talk to a doctor, without exposing themselves and others to the risk of infection, and without putting further strain on the heavily overloaded hospitals.
Online consultations are on the rise: 10 reasons to choose telehealth solutions over traditional communication tools
In the last months, doctors in the UK saw a clear shift – with telemedicine, healthcare has moved from their office to where their patients are – home, school, work, nursing home, etc. Especially with the live HD video-consultation, we now see a different dimension of the relationship between the specialists and their patients, as now practically the doctor comes to "visit" the users at their homes.
This seems to be a win-win situation for both parties and the feedback shows, that telemedicine helps doctors provide better healthcare and boosts their efficiency and practice. This means more patients, happier patients, and higher revenue for the professionals.
Don't miss: Most doctors are launching telemedicine in 2020 – and this is why you should, too
"In the old days, when patients would spend time and money to come physically to an office appointment, It felt obnoxious to rush through a 5-minute visit for a patient who may have spent half their day (or more) to get in to see me. With telemedicine, that has gone completely out of the door. The visits are much more efficient. My average visit length has plummeted.", says the cardiologist Ethan Weiss on Twitter, "I also like spending time with my family so in a sense the added efficiency has afforded me more time to do that".
More and more patients and doctors started communicating via telemedicine platforms during the lockdown of the last few months, but it looks like apps, like Healee have become the "new normal" way of accessing healthcare.
"Recently, I've been asking my patients at the end of each telehealth visit if they would like to return to live visits. 90% of them say 'no thanks' ", says the psychiatrist Howard Liu on Twitter.
"The logistics of driving, parking, crowded waiting rooms, etc. is daunting even without COVID!"
Learn more: 7 ways to encourage your patients to come back to your telehealth practice
"I Really enjoy tele visits. They feel much less rushed. I love seeing their family with them, their surroundings. Patients love it as it's now just 5-15 min out of their day",
said Howard Luks MD, an orthopedic surgeon, on Twitter.
"To those doctors who do not use any type of telehealth service yet, I wholeheartedly recommend trying it. It saves time and it is very convenient for people who cannot talk to their doctor in person these days with the outbreak of the coronavirus. It also gives doctors flexibility – we can respond to our patients at a time when it is convenient for us.", says Dr. Lazarov – obstetrician-gynecologist, with more than 20 years of experience, who received many fantastic reviews from his patients last month.
With telehealth, doctors perform at a higher standard and strengthen their doctor-patient relationship. Telehealth not only drives better health care outcomes, but it also assists doctors to provide better and more convenient healthcare anytime, anywhere.
Telehealth is here to stay!
The union between doctor, patient, and telehealth is shaping the present and future of healthcare, where both patients and doctors work for better healthcare experience. With Healee, doctors are equipped with advanced telehealth tools to provide high-quality healthcare. Become part of the digital health care community with Healee now!