A highly configurable telemedicine platform can contribute to effective organizational adoption, oftentimes insufficient with fixed solutions. Most healthcare organizations are turning to digital health and focusing on enabling hybrid of virtual-first care models. However, the diversity in use cases and organizational needs requires a customized approach rarely addressed by most telemedicine software solutions.
This article reviews the deep customization options of a white label telemedicine solution and how these options help accommodate unique workflows and features needed for successful digital transformation.
Тhe need for configurable telemedicine platforms
Telehealth diverse uses span from the traditional healthcare industry, to insurance and pharma, to niche services in wellness, mental health, behavioral health, chronic and palliative care, COVID consultations, women's health, and many more.
Furthermore, both providers and patients require personalized approaches based on workflows, age, health problems, location, digital skills, and so on.
According to the 2022 State of Healthcare Report by HIMSS, U.S.-based clinicians indicated tools that do not fit into clinical workflows, lack of proper training and lack of clear communication within the health organization, as barriers to adoption.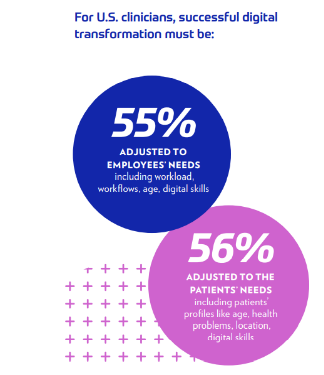 As a result, the key to ensuring organization-wide adoption would be in implementing telehealth software solutions that cater to unique business models and unique workflows.
What is deep white label for telemedicine
In most cases, the alternatives for choosing a telehealth solution will range from embarking on custom telemedicine software development on the resource-heavy side, to adopting lightweight inflexible solutions such as a fixed cloud based telemedicine software, to using dispersed point tools for communication and patient tracking.
Neither of these solutions offers a good balance between an advanced or well-tested feature set and ease of implementation.
A new deep white label approach to telehealth platforms ensures just that: the ability to get started quickly with all the features you need for patient engagement, such as telehealth, digital check-in and scheduling, while being able to adapt any part of the solution to your needs.
Deep white label goes beyond branding and personalization. Deep white label technology is made up of highly configurable building blocks that can make it fit easily into your existing workflows and systems.
With deep white label, you can get up and running in weeks through a streamlined onboarding process that helps you define your most necessary feature set, adapt to your unique processes, and plan new features for the most niche use cases.
Telemedicine platform configurability options
Configuring a deep white label telemedicine platform is a continuum where you decide how far you want to go. None is mandatory, and none is impossible.
The degrees of deep white label configurability give you maximum freedom to adopt any part of the solution based on your internal processes.

1. Adopting the ready core telemedicine platform
The fastest way to start with white label is to adopt the core platform as is and take advantage of its rich pre-built core functionality, including telehealth, digital check-in and scheduling features and workflows.
A white label "replica" contains all the core features of the platform, hosted on dedicated servers. From here on, you can choose to brand and personalize, implement unique user journeys and modify functionalities.
2. Personalizing the telemedicine platform with your brand
In case your goal is to build your brand and integrate into your existing web and mobile infrastructure, deep white label gives you this opportunity.
As part of the onboarding process you can provide preferred names and URLs of the various apps, implement your branding and design assets. This personalization spans from integrating seamlessly into your existing web properties, to owning fully branded mobile apps on the main app marketplaces.
3. Selecting the desired features for your telemedicine platform
Making the solution your own may require enabling certain features while disabling others you don't need.
For example, if your telemedicine solution is not focused on remote patient monitoring (RPM), keeping features such as patient vitals tracking or personal health records may just create a maintenance burden. With deep white-label-based platform you can decide to remove those excess features from your version of the platform.
4. Enabling your virtual care workflows
For most organizations, the hardest part is to fit a telemedicine solution into their existing workflows.
Different healthcare organizations have different sets of processes and procedures. One of the key strengths of a deep white label is its ability to closely match healthcare organizations' unique needs, providing them with configured digital health workflows.
White label workflows can feature different types of check-in processes, coordinator roles, appointment scheduling options, payment methods and so on. All the steps of a process are arranged in a sequence that fits closely the unique patient journey. It is possible to add additional steps or custom medical forms and sequences for the treatment of specific conditions.
5. Configuring the telemedicine platform settings
As telemedicine is ever-evolving, your organization may require making modifications to the existing core features of the platform.
A deep white label software solution offers clients the ability to react quickly to changing priorities and requirements for compliance. A change may be necessary for strategic business reasons or to meet and maintain different regulatory requirements for the privacy and security of data, ensuring HIPAA compliance, for example. This is why it is possible to modify the pre-built core functionalities and extend the features of the software solution.
6. Integrating into your environment
A deep white label telehealth integration with common EHR and other specialized tools is designed to help providers improve clinical workflows and increase interoperability.
EHR integration into your telehealth solution creates a more fluid, integrated experience for physicians by allowing them to conveniently access patient data at the point of care.
Conclusion
As each healthcare organization needs are unique, so should be the capabilities of a digital health platform. The configurability options of a deep digital health white label span from how patients access the services to how physicians and nurses work, to how you treat specific medical conditions. This is difficult to achieve with a static solution with fixed capabilities.
Get started today
Healee is highly configurable digital health technology for telehealth, digital check-in and scheduling with all the latest tools such as multi-party video conferencing, AI, remote patient monitoring (RPM) capabilities, queue management, payments, and much more.
Healee's configurability options allow creating a fully-branded patient experience, enabling all organizational workflows, adapting features to any use case, and launching your custom telemedicine platform in just weeks.
Request a personalized demo of Healee.