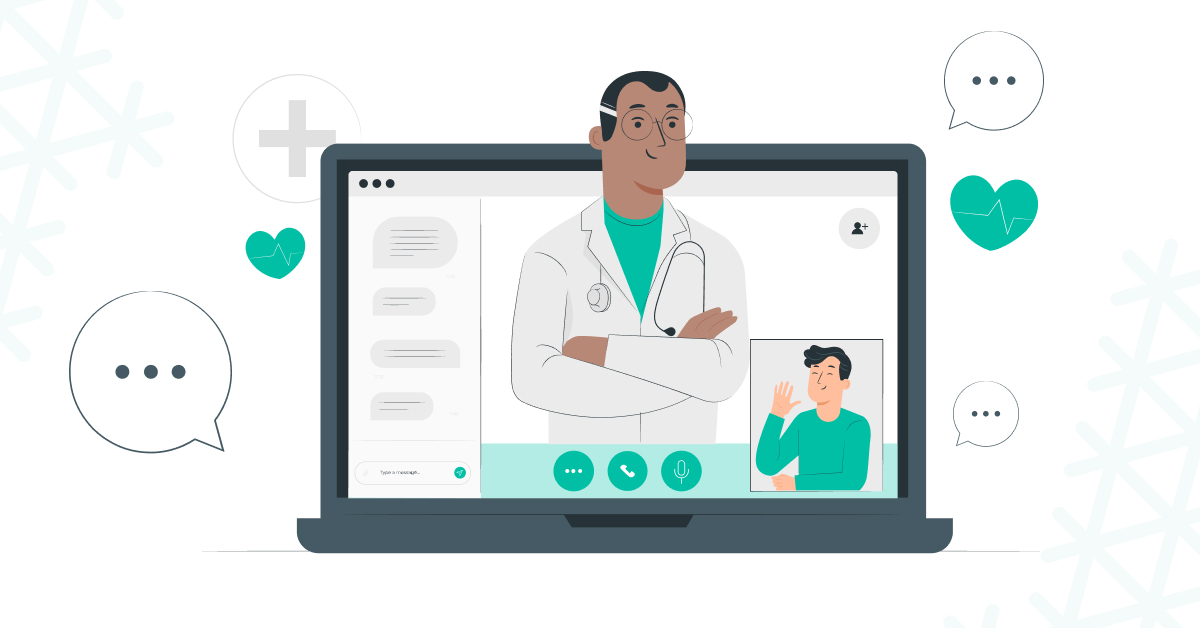 An overview of the benefits of telehealth and how the technology improves the patient and provider experience, closes care gaps, makes the business future-proof, and decreases operational costs.
It's hard to think of an industry that's more complicated, yet more important than healthcare.
We all know the struggles: on the patient side, we have people that have to fill out dozens of documents, jump from one site to another to find a doctor and book an appointment, and then struggle to get their lab results and receive proper virtual follow-up for their treatment.
On the organizational side, there are a bunch of disconnected tools, a lack of collaboration among the care team, staffing shortages, overworked health providers, and missed revenue opportunities.
If there is one thing that has the potential to put this mess in order, it's telehealth.
Telehealth – or the use of telecommunications technology to deliver care and health services remotely – can provide for better patient care, increased organizational efficiency, and significantly decreased costs.
Don't take our word for it, just look at the findings from this recent McKinsey research report:
Technology enablement in healthcare, including increased automation and self-service, offers a $250 billion to $350 billion savings opportunity;
Administrative simplification, achieved through automated staffing and scheduling tools, among other methods, could bring an ~18% decrease in administrative costs. That would yield savings in the range between $270 billion and $320 billion and lead to "materially improved employee, provider, and consumer experience";
The U.S. care delivery is becoming more "patient-centric, virtual, and available at home." This transformation introduces potential savings of $420 billion to $550 billion.
When talking about the advantages of telehealth, it's important to note that in order to achieve maximum value, healthcare organizations need to integrate a unified virtual care platform that comes with an easy-to-use yet comprehensive tech stack. A successful digital health solution should offer robust capabilities such as scheduling, telehealth, patient intake, and patient records all in one place, and should accommodate smart workflows and specific patient journeys.
Once in place, such a platform could yield impressive results:
1. Telehealth benefits for patients: Engagement, personalized treatment, continuity of care
The telehealth benefits for patients range from improved patient engagement to achieving continuity of care and the opportunity to offer treatment tailored to each patient's specific needs. Let's look at each of these separately:
– Better patient engagement
Patient engagement refers to the process of empowering patients with the knowledge, skills, and ability to make decisions about their health.
A health organization that manages to increase patient engagement can achieve better patient compliance, drive patient loyalty and satisfaction, attract new patients, and boost the organization's revenue.
A well-designed telehealth solution helps increase patient engagement in several ways:
It allows patients to safely and securely collect and track their health and fitness data to have better control over their health outcomes;
It facilitates better patient adherence to the care plan as it provides them with tools for medication and appointment reminders, as well as activity and health data tracking;
It boosts patient trust as it allows patients to read and write reviews, and find and choose the doctor most suited for their needs.
– Improved continuity of care
Continuity of care is the process of ensuring ongoing support for a patient's health needs with the aim to achieve higher-quality, more cost-effective care and improved patient safety.
Research shows that continuity of care leads to patients that are more likely to follow medical advice and engage in preventive care activities such as cancer screening.
Telehealth is crucial for achieving better continuity of care. Access to video conferencing tools allows for a faster, easier, and more cost-efficient way of treating chronic conditions. It also enables remote patient monitoring with up-to-date and HIPAA-compliant patient-generated health data, including lab results, medical images, and patient history.
– Personalized care
Achieving personalized care is also among the undoubted advantages of telehealth. A strong digital health solution has several capabilities that allow for a treatment that is tailor-made for each patient. It offers:
Patient referral capabilities that make it easier for clinical staff to collaborate on each patient case and ensure care coordination;
Matching and eligibility flows to allow patients to choose the most appropriate provider and treatment for their case;
A virtual platform built with the specific patients in mind, allowing for optimal user experience.
One example of the way telehealth aids the personalization of care is UK-based Perci Health, which provides tailor-made treatments for people living with and beyond cancer. Their platform offers an online questionnaire that assesses each patient's specific needs from a physical, psychological, and social standpoint. It then assigns them the treatment plan that is the best fit for their situation.
2. Benefits of telehealth for providers: Improved organizational efficiency
Telehealth brings a dramatic increase in organizational efficiency in several ways:
– Removes digital fatigue
Many health organizations have a disconnected approach to virtual care that requires practitioners to use an array of different systems – from EHR to scheduling, check-in, and reporting tools. That creates digital fatigue and complicates rather than simplifies the doctors' work.
Unlike organizations that utilize many different disintegrated tools, a unified telehealth solution streamlines processes such as patient scheduling. It thus saves health practitioners time and effort and gives space to what's most important to them: high-quality patient care.
– Allows for collaboration
Telehealth promotes better connectivity, which extends to doctor-to-doctor communication. Health practitioners can use the technology to build support networks and exchange skills and knowledge. That results in better health services and subsequently leads to more and happier patients.
– Reduces no-show rates
A 2022 study by the National Institutes of Health showed that after transitioning to telehealth, the overall no-show rate at an academic practice decreased from 18.1% to 15.3% (pre-pandemic to pandemic period). Telehealth brings down no-show rates because it removes transportation limitations, saves significant commute time, and gives patients a fast and convenient way to reschedule or cancel their appointment.
-Allows for Business Intelligence insights and reporting
A well-designed telehealth solution allows for robust data collection and analysis. Healthcare organizations that utilize telehealth technology can achieve:
User insights at scale
An easier way to keep track of revenue
In-depth management reports
Business Intelligence tools can dramatically improve the Key Performance Indicators of healthcare organizations. They allow health providers to create visualizations and reports using data collected from a number of sources, including patient questionnaires, surveys, and EHRs. Such insights are crucial in helping organizations improve patient outcomes, boost profits, and enhance the patient experience.
3. Closes care gaps
Telehealth plays a crucial role in closing care gaps and democratizing access to healthcare for underserved communities such as senior citizens, people with disabilities, those living in rural and secluded areas, low-income populations and patients with chronic conditions who need regular and easy access to continuous care.
Consider the impact a well-designed telehealth solution can have on rural and small market hospitals previously losing patients to large urban facilities. With new sources of revenue and closed care gaps, an effective virtual care platform can be a game-changer for both patients and providers.
4. Simplifies the tech stack
Another key benefit of telehealth is that it allows healthcare organizations to start nimble and evolve as they need to. It provides them with scalable server resources and extendable features that allow them to adjust the pre-built core functionalities to fit exact use cases and adapt to diverse and evolving requirements and organizational roles.
Thus, a strong virtual care solution simplifies the tech stack without compromising on innovation. In that way, instead of offering short-term solutions to immediate problems, healthcare organizations can address urgent needs while keeping their virtual care model future-proof.
5. Reduces cost to the business
Last but not least, a well-implemented telehealth solution has the potential to dramatically reduce business costs. It provides for shorter yet efficient patient-provider interactions, economies of scale, reduced travel and no-show rates, flexible schedule and cancellations refunds, optimized staff processes and a significant portion of manual work replaced with technology.
All five benefits we discussed above lead us to our last point: a well-designed telehealth platform brings a high return on investment (ROI). With better patient outcomes, reduced cost to the business, clinical and administrative efficiency, and a simplified and future-proof toolset, the ROI of a strong virtual care platform is sure to skyrocket.
Considering that, it's safe to say that telehealth is not only beneficial – it is a must for any health organization that wants to stay relevant and a step ahead of the competition.
To learn how Healee can help you launch a custom telemedicine platform in just a few weeks, request a personalized demo now.