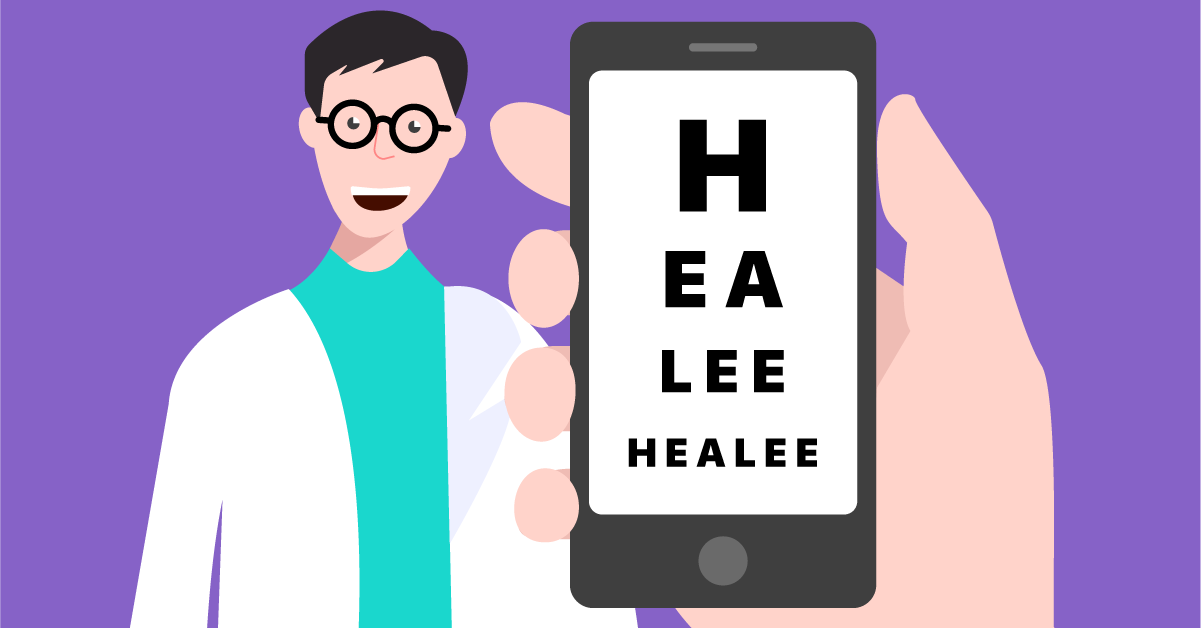 Tele-ophthalmology is a digital health discipline that becomes highly used by ophthalmologists as it makes the lives of ophthalmologists easier by driving healthcare access and delivering better patient outcomes. Telehealth platforms have the goal to support the connection between ophthalmologists and their patients when there are obstacles for face-to-face meetings like the current COVID-19 pandemic.Telehealth consultations allow patients to connect with a specialist in emergency situations or when a hospital trip takes too much time.
With the massive disruptions in health care caused by COVID-19,more and more patients are looking for ways to connect to doctors online. Doctors who offer telehealth services have a higher chance of getting these patients back to using their services. For common problems like a red eye or something in the eye, patients prefer a speedy and convenient way of connecting to specialists and they get all of that virtually. Even though not every aspect of ophthalmic practice can be virtualized, like advanced diagnostics, slit-lamp examinations, and surgical procedures, doctors can still provide care to patients in need.
In this blog post, we will look at the medical cases in which ophthalmologists use telehealth, and what are the most essential benefits of having telehealth as an addition to your practice.
Possible emergency calls
(Pre-procedure counseling, second opinion, routine follow up, allergic reactions, etc)
All eye allergies can be diagnosed online through a video consultation. Patients can show on camera the irritated/itching, red, watery, or swollen eye/s. For example, if the eye becomes too swollen while driving the car and you are too far from a hospital and its emergency room, patients can connect with an ophthalmologist online with a few clicks online. This will not only save patient's time and inconvenience but it will also build a stronger patient-doctor relationship as there will be an increase in patient satisfaction and treatment outcome.
Diabetic retinopathy counseling
Ophthalmologists can use telehealth to closely follow this diabetes complication affecting the eye. They can discuss with patients the results of the exam and implications. Specialists can use the functionality to send mass messages to patients with diabetic retinopathy and inform them about the annual dilated eye exams. They can even send mass messages with diabetes treatment information and educate them on important steps they should be taking like checking their glucose levels, serum lipids, and blood pressure regularly.
Cooperating with doctors from other specialties about a difficult case
Doctors have easy access to other specialists, either from their field or from another one. They can benefit from an open communication channel where there are no barriers and they cooperate with each other for the more complicated cases. They can exchange patient info and discuss treatment options with the patient and the other doctors treating him.
You can learn more about Healee's convenient chat rooms here.
Medication adherence
Via telehealth applications like Healee MD, ophthalmologists can send reminders to patients about their medication and remove some barriers like forgetfulness, poor self-efficacy, etc. If some patients become stressed about the side effects caused by some medication, doctors can address this online. They can also help with navigating patients how to be better with drop administration.
Glaucoma monitoring and management
Telehealth can be used for screening, diagnostic consultation, and long-term treatment monitoring for glaucoma. This way, patients are more engaged in their own disease management.
Benefits
Better patient outcomes through timely triage
With telehealth, ophthalmologists improve patient care by expanding the physician's outreach as well as eliminating the time and resources patients spend on traveling to hospitals. Ophthalmologists are able to triage patients and see who really does need to come to the office, and also provide a timely diagnosis leading to a better treatment outcome.
Lower readmissions
By offering remote patient monitoring, ophthalmologists lower the readmission of patients whose case can be addressed virtually, removing the patient's waiting time in the office.
Increased revenue
By adding telehealth to your medical practice, you provide patients living in distant locations with the option to connect with you. Also, with the average telehealth visit being about 5 to 10 minutes, you are able to see more patients without adding time to your already busy workday, and you get paid for your time and expertise.
Knowing patient health data in advance
Doctors can review family history including medical conditions like hypertension, hyperlipidemia, diabetes, cardiovascular disease, and eye conditions. Ophthalmologists can also send custom medical forms prior to the online consultation and gather the necessary health data of the patients, including customizable questions like "were you at home or outside when the symptom appeared? ", "do you take any medications?", "do you have a decrease in visual acuity or have you had an eye injury?", etc.
If you would like to add telehealth to your practice like the other ophthalmologists, click here to register and get your account verified within a day, and you will be able to start seeing your patients online the same day! This will be of benefit not only to you, but your revenue patients as well, since patients value a superior customer experience and are already looking for a way to connect with you outside the hospital.
Follow Healee on Linkedin: https://linkedin.com/company/healeehq
Follow Healee on Twitter: https://twitter.com/HealeeHQ