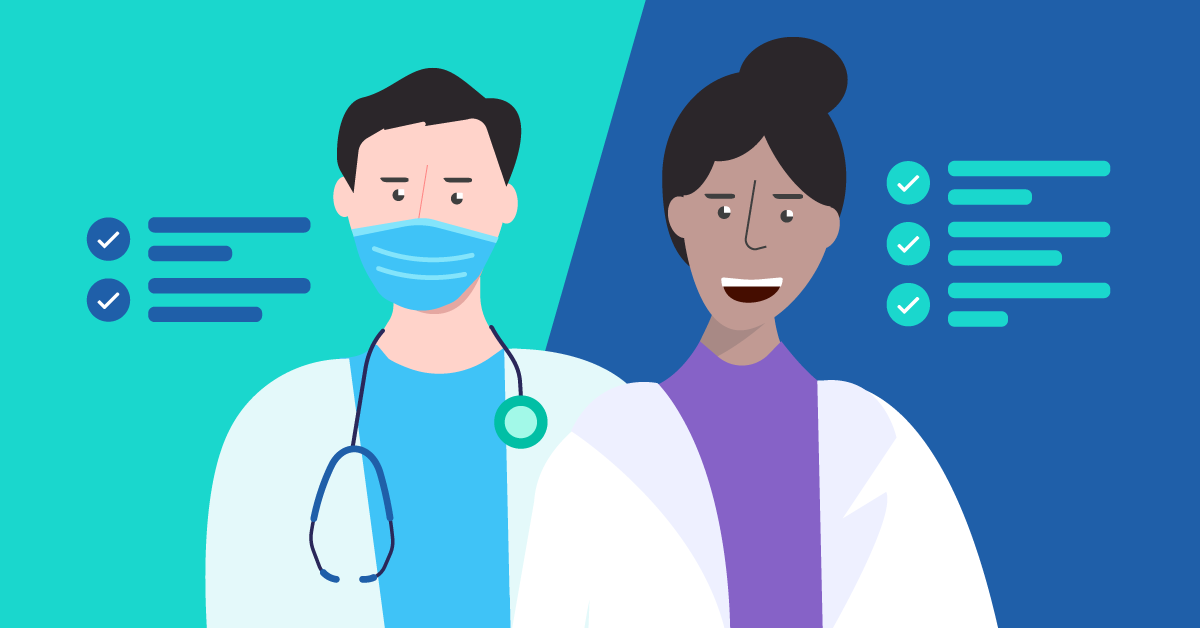 Was telehealth a pandemic buzzword or does it have the potential to be a future mainstream treatment model? To learn the answer, read along and hear what our post-Covid telehealth predictions are.
During the pandemic more patients started using telehealth for different types of health related problems: diseases, non-critical illness, second opinions or just to discuss uncomfortable illnesses. COVID-19 has changed everything in people's lives: from how they interact with each other, where and how they work, how they feel mentally and physically and even how they interact with healthcare providers. When COVID-19 was officially declared a national emergency in March 2020, Google search interest for "telehealth" rose by 317% and the Google search for the term "doctor near me" dropped by 28% in the US. From these numbers we can conclude that people try to limit in-person medical consultations to reduce the risk of getting exposed to the virus or any other viruses, and try to find other means to connect with a doctor.
This is where telehealth stepped in. Telehealth, or virtual care, helps doctors provide care and comfort to patients in their homes anytime, anywhere. This timely online interaction not only offered convenience for both doctors and patients but also helped physicians experience less stress and burnout and engage patients in their own health by giving them easy access to healthcare when and where they need it. Telehealth has become a win for everyone involved. We believe that telehealth is the key to better health care and is able to address today's and tomorrow's health care challenges by offering more safe, timely, effective, efficient, patient-centered care.
As the pandemic accelerated, countries throughout the world shifted to virtual care or integrated a combination of a physical and virtual care. There are many reports showing that people started approaching their health and health care more via telehealth and virtual contact. For example, pre-COVID-19, the total annual revenues of US telehealth players were an estimated $3 billion, while after the acceleration of consumer and provider adoption of telehealth, it is estimated that US healthcare virtual spend could potentially become $250 billion (or 20% of all Medicare, Medicaid and office and home health spend).
The question is: will healthcare providers (doctors, clinics and hospitals) become more involved in virtual care for the years ahead and how will telehealth evolve as a whole?
To answer that question we should first get back to see how telehealth adoption has been welcomed from physicians and patients alike since the beginning.
Virtual care has not emerged with the pandemic. It has a long history. In 1925, a cover of Science and Invention magazine showed a doctor diagnosing a patient by radio, and within envisioned a device that would allow for the video examination of a patient over distance. Telemedicine has also been used for decades in clinical settings. In 1906, the inventor of the electrocardiogram published a paper on the telecardiogram. Since the 1920s, the radio has been used to give medical advice to clinics on ships. Another famous use of hospital-based telemedicine was in the late 1950s and early 1960s when a university established a two-way television setup to transmit information to medical students across campus, and five years later linked with a state hospital to perform video consultations.
Later on, in 1996, the virtual health legislation was first passed and it has been around in some form for the past 25-30 years. Statistics show that from 2010 to 2017, the percentage of US hospitals that connect with patients through the use of video and other technology has increased from 35% to 76%. This only confirms that telehealth still has room to evolve. And the pandemic only reinforced its adoption from doctors, patients, clinics and hospitals.
Needless to say, tech savvy patients were ready for telehealth adoption way before the start of the pandemic and way before doctors. But today a big percent of doctors have already embraced telehealth as part of their medical practice. And these doctors are the ones who confirm they will continue providing telehealth to patients in the future. Not only that but these trained and prepared doctors have started offering telehealth to their colleagues.
Not only providers, but hospitals and clinics too are more comfortable with telehealth and almost no one wants to return to a place where things were way worse and inconvenient, especially when it comes to health.
Even though there is still a long road ahead for digital healthcare to be embraced worldwide, 2020 gave a big stimulus and push to digital post-Covid healthcare. We don't know when the COVID-19 pandemic will die down or be over but now you can read our predictions of what can unfold in the hopefully near post-COVID era.
Patients will choose providers, hospitals and clinics based on telehealth access. Therefore providers and hospitals that embrace telehealth will see revenue growth
Providers and patients who have a positive reaction towards the use of telehealth will continue using it
The on-demand care through telehealth will strengthen physician-patient relationships, because doctors will be able to monitor patients more closely and patients will receive on-demand access anytime they need it
While 2020 focused on urgent healthcare and convenience through telehealth, now and in the following years virtual care will bring earlier disease detection and treatment, improve patient-doctor relationships, enhance remote-monitoring, improve efficiency and help hospitals get on their feet after the end of the pandemic
Telehealth will become a standard service offered across all care settings. It will lessen the burden on health systems and improve quality of care. Healthcare systems, hit hard by the pandemic struggling to get their patients back, will look for ways to get themselves more prepared for future challenges and will turn to healthcare innovations.
A lot of states are likely to expand coverage and reimbursement for telehealth. The governments around the world will continue coming up with new policies and reimbursement guidelines to promote the usage of digital health platforms.
Medical schools will start including telehealth in their curriculum to prepare healthcare providers for the future digital world
There will be more third party integrations and EHR interoperability
The demand for telemedicine solutions will continue due to the tangible value it brings
Both patients and providers will continue to benefit with safe, secure and seamless access to patient information and vital data. Studies find that telemedicine has enduring popularity among both clinicians and patients. During Covid-19 lockdowns both clinicians and patients found that many use cases sustained remote patient care via video quite well.
The temporary policies put into place during the public health emergency might become permanent
Telehealth platforms will become even more faster and agile
A collaborative healthcare ecosystem will foster innovation even more
These were our 13 predictions of post-covid telehealth future. And even though the healthcare industry has historically been resistant to change, healthcare innovations and the COVID pandemic have shifted that. The world is now tentatively reopening to embracing innovation and more convenient ways to provide health care. Via virtual care, providers and clinics are able to provide primary care, mental health care and even specialty care such as physical therapy and endocrinology medical advice. Even though some patients may return to in-person consultations, there still will be a cultural change because patients and doctors alike have already seen the benefits of telehealth consultations and will look out if they need on-demand medical advice. The World Health organization has recommended telemedicine in its "strengthening the health system response to COVID-19" policy. This shift is already visible. In the US, the Centers for Medicare and Medicaid Services has expanded the reimbursement for telehealth.
Benefits like cost effectiveness of virtual consultations and easy access for everyone have increased telehealth adoption among patients and doctors. These changes are largely positive for clinicians and patients and will lead to both improved access to the healthcare system, and new ways for clinicians, clinics and hospitals to generate revenue. Now more than ever hospitals and doctors will need alternative ways to provide on-time and efficient care to patients who have postponed their medical checkups and screenings because of the pandemic, to improve outcomes and maximize patient engagement.Through telehealth providers can deliver the right care, at the tight time anywhere. And many are planning for a post-pandemic future that lies in a hybrid care approach by mixing virtual visits with in-person care.
Conclusion
Telehealth is much more than a band-aid fix for a global pandemic. Our team believes that telehealth is the new destination for better healthcare opportunities. It will continue to play a major role in upgrading patients' health and treatment by improving provider's work. For this better future telehealth providers must not only think about improving and working on their own but instead they should embrace new partnerships so that patients and doctors can receive the best seamless virtual health care journey they have ever had. It is up to us to create a better future and strengthen communities with quality healthcare.
If you want to thrive in the healthcare future and haven't implemented a solution yet, now is the perfect time to decide what kind of solution fits your practice's or health system's needs. Healee's telehealth solution can help clinics, hospitals and doctors get their medical practice flourish during the pandemic and post-covid.
Real change is happening NOW, digital health is being introduced in almost every hospital and clinic. If you don't want to be left behind, ask for a demo now or register your personal doctor's or hospital's account through Healee!
Check out our complete guide to choosing Healee's telehealth solution for your hospital and upgrade your hospital account now.
You can contact us for full details: https://www.healee.com/en
You can follow Healee on Linkedin: https://linkedin.com/company/healeehq
You can follow Healee on Twitter: https://twitter.com/HealeeHQ